Labelling as device of CSR appropriation : the case of digital inter-clusters
La labellisation comme dispositif d'appropriation de la RSE : le cas d'inter-clusters du numérique.
Since the Brundtland report (1987) the number of labels and standards related to CSR have multiplied. Although historically the first works and tools related to CSR were mainly targeting large enterprises, Small and Medium Enterprises (SMEs) are increasingly concerned by this topic. This thesis aims at exploring how organizations assimilate a management tool, which, in turns, contributes to CSR institutionalization.In order to do this, we develop a particular case study in a context of SME digital inter-clusters with a sectorial CSR label. This study includes 44 interviews and observation phases within 28 businesses embedded in clusters, cluster governance authorities and system holders/creators.The contributions of this thesis project are at a managerial level to provide elements that facilitate the appreciation/valorization of this type of device by both the relevant undertakings and the device holders. At an academic level, the originality of our research field lies in its potential to open up theoretical contributions on the integration of CSR in SMEs, inter-cluster relations and management of a tool to achieve institutionalization.
Depuis le rapport Brutland (1987) le nombre de labels et de normes ayant trait à la RSE se multiplie. Bien qu'historiquement les premiers travaux et outils relatifs à la RSE soient tournés vers les grandes entreprises, les PME sont de plus en plus concernées par cette thématique. Ce projet de thèse a pour ambition d'explorer comment les organisations s'approprient un outil de gestion qui participe à l'institutionnalisation de la RSE. Pour ce faire, nous étudions le cas particulier d'un contexte d'inter-clusters de PME du numérique disposant d'un label RSE sectoriel. Cette étude comprend 44 entretiens et des phases d'observations auprès de 28 entreprises des clusters, des instances de gouvernances des clusters et des porteurs du dispositif.Les apports de ce projet de thèse sont à un niveau managérial d'apporter des éléments facilitant la valorisation de ce type de dispositif par les entreprises concernées et par les porteurs de ces dernières. À un niveau académique, l'originalité de notre terrain d'étude ouvre des contributions théoriques sur l'intégration de la RSE dans les PME, sur les relations inter-clusters et sur la gestion d'un outil dans le cadre d'un projet d'institutionnalisation.
Fichier principal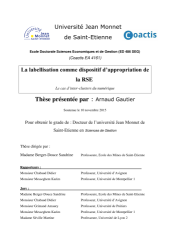 These-GAUTIER-Arnaud-2015.pdf (6.01 Mo)
Télécharger le fichier
Origin : Version validated by the jury (STAR)