Toward the synthesis of Prodigiosin's analogous. Synthesis of asymmetric 2,2'-bipyrroles.
Vers la synthèse d'analogues de la Prodigiosine. Synthèse de 2,2'-bipyrroles dissymétriques
Prodigiosin is a secondary metabolite mainly produced by Serratia marcescens. This red pigment possessing a tripyrrolic structure, shows antitumor, immunosuppressive, antibiotic, antifungal and anti-malarial activities. These activities make it a valuable compound for therapeutic applications. Our team has developed a synthetic methodology based on the addition of pyrroles onto nitrones and N-hydroxylamines to afford selectively either dipyrromethanes or dipyrromethenes. This methodology has been the starting point of the first study in this manuscript. We have developed a pathway for the synthesis of Prodigiosin's analogues. These analogues, substituted in meso position, have never been studied. In the first stage, it was necessary to develop a synthetic sequence leading to the 4-methoxy-2, 2'-bipyrrole, a precursor of Prodigiosin. We also developed a sequence allowing access to unsymmetrical 2,2'-bipyrroles. These building blocks are used in the chemistry of expanded porphyrins. These pyrrole macrocycles show applications in many fields like conductive polymers, liquid crystals and other biological applications. Our methodology allows the formation of bipyrroles in six steps from readily available substrates with overall yields of up to 20%. This method has also been extended to the synthesis of terpyrrole.
La Prodigiosine est un métabolite secondaire de couleur rouge produit principalement par la bactérie Serratia marcescens. Cette molécule, de structure tripyrrolique, présente des activités antitumorales, immunosuppressives, antibiotiques, antifongiques et antipaludiques. Ses nombreuses activités en font un composé potentiellement intéressant pour des applications thérapeutiques. Notre équipe a développé une méthodologie de synthèse basée sur la réactivité de dérivés pyrroliques vis-à-vis des nitrones et des N-hydroxylamines pour mener sélectivement à des structures dipyrrométhanes et dipyrrométhènes. Cette méthodologie a été le point de départ de la première étude de ce manuscrit. Nous avons ainsi développé une voie d'accès vers la synthèse d'analogues de la Prodigiosine. Ces derniers, substitués en position méso, n'ont jamais fais l'objet d'étude. Pour cela, il a fallu développer une voie d'accès au 4-méthoxy-2,2'-bipyrrole, précurseur principal de la Prodigiosine. Nous avons également mis au point une voie d'accès à des 2,2'-bipyrroles dissymétriques. Ces derniers sont des briques élémentaires utilisés en chimie des porphyrines étendues. Ces macrocycles pyrroliques trouvent des applications dans de nombreux domaines allant des polymères conducteurs aux cristaux liquides en passant par des applications biologiques. Notre méthodologie permet la formation de bipyrroles en six étapes, à partir de substrats facilement accessibles, avec des rendements globaux pouvant atteindre 20 %. Cette méthode a également été étendue à la synthèse du motif terpyrrole.
Fichier principal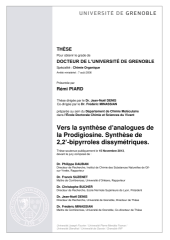 36511_PIARD_2013_archivage1.pdf (9.84 Mo)
Télécharger le fichier
Origin : Version validated by the jury (STAR)