From molecules to human : a research on the 4th dimension of life. : Energy, material, information, meaning.
De la molécule à l'homme : recherche sur la quatrième dimension de la vie. : Energie, matière, information, sens
Combining semiotics and biology, this thesis intends to give an extensive overview of the phenomena of signs in life. The approach is more than biology-inspired; it is biologically concrete: data from the biological context is directly used to support the hypothesis – semiosis exists in all levels of life: molecules, cells, organs, organisms, and species. A biosemiotics system requires the use of signs and serves the goal of self-maintenance; it is also a modularized component of a larger whole with self-organizing and self-producing properties. Representing a developmental point of view on cognition, it is argued in this work that cognitive functions – referred to as the "semiotic control" – coexist with life. With different cognitive capacities, living organisms create patterns of semiotic control; prominent traits of human cognition such as emotions and language characterize the complex forms of pattern manipulations. The sciences of semiotics and biology cannot be fully understood without each other. In this thesis, furthermore, an effort is made to connect various theoretic stances on biosemiotics to overcome the limitations of individual works. The integration between semiotics with more scientific fields is yet to be explored.
En associant la sémiotique et la biologie, cette thèse veut donner un aperçu exhaustif de l'efficience des signes dans la vie. L'approche se fonde sur les données biologiques qui sont directement utilisées pour étayer l'hypothèse centrale de la présente recherche : la sémiosis est produite à tous les niveaux de vie : les molécules, les cellules, les organes, les organismes et les espèces. Un système biosémiotique nécessite l'utilisation de signes et sert à l'auto-entretien de l'organisme. On l'interprète ici comme une composante modulaire d'un ensemble plus vaste doué de propriétés auto-organisatielles et auto-productives. Adoptant un point de vue développemental sur la cognition, on soutient dans ce travail que les fonctions cognitives – appelées « contrôle sémiotique » – co-existent avec la vie. Différenciés selon leurs capacités cognitives, les organismes vivants créent des modèles de contrôle sémiotique; les traits importants de la cognition humaine tels que les émotions et le langage caractérisent les formes complexes des manipulations de signes. Les sciences de la sémiotique et de la biologie ne peuvent être totalement comprises l'une sans l'autre. Dans cette thèse, en outre, un effort est fait pour relier diverses positions théoriques sur la biosémiotique afin de surmonter les limites des travaux spécialisés en leurs propres domaines. L'intégration entre la sémiotique et d'autres domaines scientifiques est encore à explorer.
Fichier principal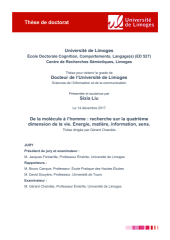 2017LIMO0048.pdf (9.7 Mo)
Télécharger le fichier
Origin : Version validated by the jury (STAR)