Detoxification of hemicellulosic hydrolysates through dia-nanofiltration, study of their fermentescibility and mode of action of inhibitory compounds.
Détoxification d'hydolysats hémicellulosiques par dia-nanofiltration, étude de leur fermentescibilité et du mode d'action des inhibiteurs.
Lignocellulosic biomass is a promising alternative to oil for the production of energy and high added value molecules. However, its exploitation requires the use of pretreatment processes. The most commonly used processes generate by-products which present inhibitory action on microorganisms (furan derivatives, aliphatic acids, phenolic compounds).The main goal of this thesis project is to answer the following question : "Is it possible to use nanofiltration to remove inhibitory compounds from hemicellulosic hydrolysate, in order to ferment the latter with Bacillus subtilis 168 ?"Determination of minimal inhibitory concentrations of these inhibitory compounds allowed to determine, for each one, the quantity to remove from the hydrolysate.Dia-nanofiltration with DK membrane (GE, USA) allowed to efficiently remove (more than 90%) furane derivatives of aliphatic acids. However, removal of phenolic compounds was more complexe, hence, only 25% of syringaldehyde could be removed. Though most indentified inhibitory compounds were removed, Bacillus subtilis 168 was still not able to ferment the hydrolysate.Flow cytometry showed that férulic acid and vanillin presented an impact on Bacillus subtilis 168 plasma membrane fluidity of polarisation.
La biomasse lignocellulosique (BLC) est, à l'heure actuelle, la meilleure alternative au pétrole en ce qui concerne la production d'énergie et de molécules à haute valeur ajoutée. Seulement, son exploitation nécessite l'emploi de prétraitements dont les plus courants génèrent des composés inhibant la croissance des microorganismes (dérivés furaniques, acides aliphatiques, phenols).Le but de ces travaux de thèse est donc de répondre à la question suivante : "Est il possible d'utiliser la nanofiltration pour éliminer les composés inhibiteurs présents dans un hydrolysat hémicellulosique, afin de le rendre fermentescible par Bacillus subtilis 168 ?"La détermination des concentrations minimales inhibitrices de ces composés inhibiteurs sur Bacillus subtilis 168 ont permis de fixer la quantité d'inhibiteurs à éliminer de l'hydrolysat.La dia-nanofiltration à l'aide de la membrane DK (GE, USA) a permis d'éliminer de manière efficace (+ de 90%) les dérivés furaniques et les acides alphatiques. Toutefois l'émination des composés phénoliques s'est révélée plus complexe, ainsi seul 25% du syringaldéhyde a été éliminé.La cytométrie en flux a permis de montrer une action de l'acide férulique et de la vanilline sur la fluidité et la polarisation de la membrane plasmique.
Fichier principal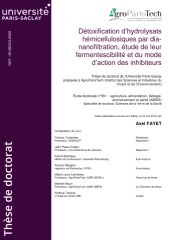 66766_FAYET_2018_archivage2.pdf (18.33 Mo)
Télécharger le fichier
Origin : Version validated by the jury (STAR)