Towards a practice of repurposing materials in architecture : experiementations, tools, approachs.
Vers une pratique du réemploi en architecture : Expérimentations, outils, approches
The world of construction is nowadays confronted with the requirements and challenges of the socio-ecological transition. The discipline of architecture is evolving in order to move towards a more eco-responsible architecture from a technical, cultural, economic and legal point of view. Reuse, less developed than recycling, is a practice that is emancipating itself at high speed and struggling to fit into the standardized production system attributed by the current industrial and socio-technical system. This thesis is part of the theoretical framework of the socio-ecological transition, which proposes a broader vision of the paradigm changes to be made by integrating, beyond the technical side (energy), all social actions and so-called ecological behaviours. In this sense, we situate our research within the theoretical framework proposed by Sylvain Lavelle , who opts for "a fairer transition" . He defends a polymorphic transition based on a change of oïkos, tekhnè, ethos and muthos, thus going beyond the energy question and integrating principles of social justice, relationship to the environment, ethics and new socio-cultural narratives. An action program can be transposed to the practice of reuse and more generally to the architectural discipline. This thesis questions the potential of this practice to induce other approaches and project tools to move towards a truly eco-responsible architecture. We propose the definition of oïko-responsible to support the need for a change of perspective in light of this term, and to give a reading of the programme of actions it implies. Although philosophical, these definitions have served as a framework for reading and analysing experimental practices and tools for a dual corpus of operational (eight actors) and pedagogical (one module) practices; they have also enabled us to explore the basis for commitment and meaning of this practice. The challenges of this work consist in taking stock of this emerging practice and looking at how it guides the triple practice of architecture (pedagogy, research, operational). It will then be necessary to verify the hypothesis that reuse can induce an oïkos-responsible architecture by mobilizing the triple activity of operational practice, pedagogy and research. To this end, we propose a first step demonstrating how practitioners work towards the professionalization of reuse by reintegrating experimental dynamics into the project process. Secondly, they demonstrate their ability to redefine or create tools for reuse that can respond to this eco-responsible change. These two phases draw a portrait of actors who ultimately request this practice of reuse as a tool to requestion the ethics of architectural practices.
Le monde de la construction est aujourd'hui confronté aux exigences et enjeux de la transition socio-écologique. La discipline de l'architecture évolue afin de tendre vers une architecture plus éco-responsable tant du point de vue technique que culturel, économique que juridique. Le réemploi, moins développé que le recyclage, est une pratique qui s'émancipe à grande vitesse et peine à s'insérer dans le système de production normalisé et standardisé imputé par le système industriel et socio-technique actuel. La thèse s'inscrit dans le cadre théorique de la transition socio-écologique qui propose une vision plus large des changements de paradigme à opérer en intégrant, au-delà du seul versant technique (énergie) l'ensemble des actions sociales et des comportements dites écologiques. Nous situons en ce sens notre recherche dans le cadre théorique que propose Sylvain Lavelle qui opte pour « une transition plus juste ». Il défend une transition polymorphe qui se fonde sur un changement d'oikos, de tekhnè, d'ethos et de muthos, dépassant ainsi la seule question énergétique et intégrant des principes de justice sociale, de relation à l'environnement, d'éthique et de nouvelles narrations socio-culturelles. Nous y lisons un programme d'action transposable à la pratique du réemploi et plus globalement à la discipline architecturale. Ce travail de thèse questionne les potentiels de cette pratique à induire d'autres approches et outils de projet pour tendre vers une architecture véritablement éco-responsable. Nous proposons la définition d'oïko-responsable pour appuyer sur la nécessité d'un changement de regard sur ce terme, et donner à lire le programme d'actions qu'il suppose. Bien que philosophiques, ces définitions nous ont servis de grilles de lecture et d'analyse des pratiques expérimentales et des outils d'un double corpus de pratiques opérationnelles (huits acteurs) et pédagogique (un module) ; elles nous ont également permis de défricher le fond d'engagement et de sens de cette pratique. Les enjeux de ce travail de recherche consistent à faire l'état des lieux de cette pratique émergente et poser un regard sur la manière dont elle oriente la triple pratique de l'architecture. Il conviendra alors de vérifier l'hypothèse selon laquelle le réemploi peut induire une architecture oikos-responsable en mobilisant la triple activité de pratique opérationnelle, pédagogique et de recherche. Pour cela, nous proposons un premier temps démontrant comment les praticiens travaillent à sa professionnalisation en réinsérant la dynamique expérimentale dans le processus de projet. Un second temps démontrent leurs capacités à redéfinir ou créer des outils propres au réemploi à mêmes de répondre à cette mutation écoresponsable. Ces deux temps tirent un portrait d'acteurs qui sollicitent, en définitive, cette pratique du réemploi comme un outil pour réinterroger la déontologie des pratiques d'architectes.
Fichier principal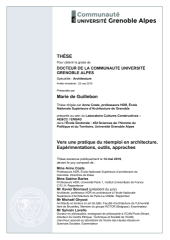 MdGuillebon-manuscrit-these-reemploi-juillet-2019 - .pdf (181.82 Mo)
Télécharger le fichier

Mdg-annexes-VF.pdf (126.96 Mo)
Télécharger le fichier
Origin : Files produced by the author(s)