Study of the interlinguistic sphere among the learners of French in a school environment : socio- discursive interactionist, dialogic and polyphonic aspects.
Étude de l'espace interlinguistique chez les apprenants du français en contexte scolaire : aspects socio-interactionnistes, dialogiques et polyphoniques.
Our research derives from the presence of recurrent language phenomena ob-served in the oral production of young learners of French as a second language in school.The linguistic, syntactic and semantic structure of their language productions seemed to be marked by features of enunciative heterogeneity that affected these utterances in their materiality. On initial examination, these phenomena which seem to free themselves from the speakers' first languages, might point to a deviation or failure with regard to the formal properties of the target language. However, we chose to consider them as manifestations of a discursive behavior, expressing a gen-eral attitude on the part of the speaker-learner towards his or her social environment.Our corpus consists of recordings or transcriptions of oral productions. In this study we aim to understand and interpret these phenomena. For this purpose we set up a theoretical framework which seemed to shed light on our questions and provide some possible answers. We established a connection between the concepts of dialo-gism, polyphony, socio-discursive interactionism and the analysis of these discursive forms belonging to the field of acquisition. On the basis of these concepts, we at-tempted to highlight the dynamic and decisive role of the social and linguistic context in second language developing.Key wordsDialogism-Socio-discursive interactionism- French as a second language-Interlinguistic space- NAM (Newly Arrived Migrants)
Notre problématique de recherche a trouvé sa source à partir du constat selon lequel l'observation de la production orale de jeunes apprenants du français langue seconde en contexte scolaire révélait la présence de phénomènes langagiers récurrents. La structure linguistique, syntaxique et sémantique de leurs productions langagières, semblait marquée par des traits d'hétérogénéité énonciative qui affectent ces énoncés. En première analyse, ces phénomènes qui semblent s'affranchir des langues premières des locuteurs pouvaient signifier d'une déviance ou défaillance eu égard aux propriétés formelles de la langue cible. Cependant nous avons choisi de les considérer comme relevant d'un comportement discursif, manifestant d'une attitude globale du locuteur-apprenant vis-à-vis de son environnement social.Notre corpus est constitué par des productions orales consignées dans des enregistrements audio, vidéo ou par des prises de notes.La visée de notre travail est la compréhension et l'interprétation de ces phénomènes. Pour cela, nous avons convoqué un cadre théorique qui semblait pouvoir éclairer notre questionnement et nous apporter des éléments de réponse. Nous avons rapproché les concepts de dialogisme, de polyphonie et d'interactionnisme socio-discursif de l'analyse de ces formes discursives relevant de l'acquisition. En appui de ces concepts nous avons tenté de mettre en évidence le rôle dynamique et déterminant du contexte social et linguistique dans le développement langagier en langue seconde.Mots clésDialogisme–Interactionnisme socio-discursif– EANA – Français langue seconde-Espace interlinguistique.
Fichier principal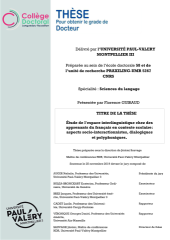 2019_GUIRAUD_arch.pdf (2.34 Mo)
Télécharger le fichier
Origin : Version validated by the jury (STAR)