Reformulations within the Framework of Writing Workshop in the First Grade : Linguistic Study of Reformulation Games.
Les reformulations orales en contexte d'atelier de production d'écrits au Cours Préparatoire : étude linguistique des jeux de reformulations.
This doctoral research aims to study reformulations within the framework of writing workshop in the first grade. The corpus of this research, composed of eleven sessions recorded in four different classes in terms of school effectiveness and equity in writing, comes from Lire et Écrire au CP the national project for first-grade Teaching to Read-and-Write policy (IFÉ French Institute of Education). We particularly try to show that studying reformulation allows the analysis of joint activity that reveals literacy practices and recognizes language expertise. We see reformulation as a linguistic process that takes into account multimodality, the praxeological and metalinguistic dimensions knowing that the repetition of phonemes, syllables or letters is considered as a reformulation when it has a didactic purpose. The main issue of this dissertation is to show that reformulation is a language professional action and an action-oriented language resource towards didactic purposes. Thus, we advocate for reformulation under study during initial and continuous teacher training. The identification of different ways to reformulate as well as examples of reformulations that reveal teacher expertise makes it possible to envisage actions during teacher training.
Cette recherche doctorale vise à étudier les reformulations orales en contexte d'atelier de production d'écrits au Cours Préparatoire (CP). À partir d'un corpus composé de onze séances dans quatre classes contrastées en termes d'efficacité et d'équité en écriture, issues des données de la recherche Lire et Écrire au CP (IFÉ), notre travail tente de montrer que l'étude des reformulations orales constitue un analyseur de l'activité didactique qui permet d'observer les pratiques littéraciées (lire-écrire-parler) et de mettre en évidence des indicateurs d'expertise langagière : l'étude de ce phénomène langagier a donc une fonction heuristique en permettant d'appréhender les pratiques enseignantes et les compétences en littératie des élèves. Notre conception de la reformulation prend en compte la visée didactique ainsi que la dimension praxéologique sachant que les unités linguistiques inférieures au mot, la multimodalité ainsi que la dimension « méta » en sont notamment les composantes. L'enjeu de cette thèse étant de montrer que la reformulation orale est un geste professionnel langagier et qu'elle constitue une ressource langagière orientée pour l'action à visée didactique, nous la considérons comme un marqueur de la professionnalité de l'action enseignante susceptible de devenir un objet d'étude en formation initiale et continue des enseignants. La mise en évidence de manières de faire différentes ainsi que de gestes didactiques révélateurs de l'expertise enseignante permet d'envisager des actions de formation spécifiques.
Fichier principal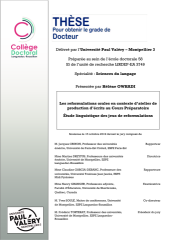 2019_OWHADI_arch.pdf (5.76 Mo)
Télécharger le fichier
Origin : Version validated by the jury (STAR)