The Historiettes by Tallemant des Réaux : a Bildungsroman ?
Les Historiettes de Tallemant des Réaux : un « roman de formation » ?
The Historiettes by Tallemant des Réaux, written from 1657 to 1659 but only published nearly two centuries later, in 1834, consist of a motley collection of 323 portaits or small biographies, anthologies and self account/narrative. This fragmented structure, which is the chief characteristic of the work, hinders all attempts to classify it in any specific genre. It has been sometimes related to memoirs because of the various testimonies it contains on Henry IV and Louis XIII's reigns but more often, it is scorned as consisting only of a set of entertaining - and often saucy - anecdotes.Trying to go beyond this traditional approach, we have thought it would be interesting to attempt a comprehensive approach of the Historiettes suggesting the hypothesis of a main thread that could reveal the hidden significance, if any, to the ill-assorted oddity, deliberatly presented by Tallemant. Actually, one cannot ignore the importance of the self narrative which, as a subterranean string, links the Historiettes together but appears only in full light at the very end, when the narrator finallly reveals himself as « an author ». This suggests that the end is actually the beginning of a work which is elaborated upon the basis of Tallemant's own life but back to front. Such a sophisticated composition leads us towards a kind of « Bildungsroman » in which the heros's personality is enriched with the fruits of various memorable experiences of his own life. Paradoxe ! : it is an anachronism to compare a seventy century collection of historiettes with a Bildungsroman ? In fact, only the free form of the novel could allow a narrative of self-discovery in which the subject becomes aware of his being a writer and reveals his ambitions. Our purpose has been to unfold the hidden route of a unique author whose writing feeds on the fine art of conversation cultivated in the world of the 17th century salons.
Les Historiettes de Tallemant des Réaux écrites entre 1657 et 1659, restées volontairement secrètes au XVIIe siècle et publiées pour la première fois en 1834, forment une oeuvre composite de 323 portraits ou petites biographies, florilège et récit de soi. Cette structure fragmentée qui est la caractéristique principale des Historiettes résiste à toute tentative de classement dans un genre. L'oeuvre a été parfois rapprochée des Mémoires, en raison des témoignages qu'elle apporte sur le règne d'Henri IV et de Louis XIII, mais elle est le plus souvent accusée de se réduire à un recueil d'anecdotes divertissantes et souvent grivoises. Nous avons souhaité relevé un défi en nous engageant dans une approche globale des Historiettes pour retrouver le sens caché d'une disparate clairement assumée par son auteur. On ne peut négliger l'importance du récit de soi qui relie souterrainement les Historiettes entre elles et émerge au grand jour lorsque le narrateur déclare en toute fin son identité d'auteur. La fin est en réalité le commencement d'une oeuvre qui s'est développée à rebours du parcours de vie de Tallemant. Cette composition en ellipse nous attire vers le roman de formation dans lequel la personnalité du héros s'enrichit du fruit des expériences mémorables de sa vie. Comparer le recueil d'Historiettes à un roman de formation peut paraître paradoxal et anachronique pour une création du XVIIe siècle, mais c'est un pari que nous avons tenté. Seule la forme libre du roman permettait d'accueillir un récit de soi dans lequel le sujet s'éveille à sa conscience d'écrivain et révèle ses ambitions. Notre objectif a été de mettre en lumière ce parcours caché d'un auteur singulier dont l'écriture se nourrit du style moyen de la conversation cultivée dans l'espace de sociabilité mondaine des salons du XVIIe siècle.
Fichier principal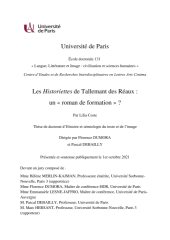 COSTE_Lilia_vd2.pdf (3.71 Mo)
Télécharger le fichier
Origin : Version validated by the jury (STAR)