Executive functions in Moroccan children. : Adaptation of neuropsychological tools and study of sociodemographic and cultural effects.
Les fonctions exécutives chez les enfants Marocains. : Adaptation d'outils d'évaluation neuropsychologiques et étude des effets sociodémographiques et culturels.
Studies on executive function (EF) in children rarely involve populations in countries of the Middle East and North Africa. In this context, this thesis aimed to adapt tasks of the Children Executive Function Battery (CEF-B) to Moroccan culture and to provide preliminary normative data on the development of four commonly identified executive processes that are inhibition, working memory, cognitive flexibility and planning. In this perspective, we 1) carried out a Translation-Backtranslation procedure for adapting the CEF-B battery and 2)analyzed the trajectories of executive development with 115 Moroccan children of school age. The effect of gender, level of parental education, and multilingualism was also examined.Results showed that the adaptation steps were sufficient for the good understanding of the tests by Moroccan children. An overall effect of age on executive performance has been observed. With regard to the gender and education level of theparents, the analysis did not show any effect on performance in executive tasks. Regarding multilingualism, an effect on the performance of each executive process has been proposed, with better results for multilingual children compared to their bilingual peers. Overall, the data suggest a gradual development of EF in Moroccan children. Due to the scarcity of validated tools in Morocco, this thesis contributes to the emergence of neuropsychology and subsequently promotes better support for children with disorders.
Les études concernant les fonctions exécutives (FE) chez les enfants concernent rarement les populations des pays du Moyen-Orient et d'Afrique du Nord. Dans ce contexte, cette thèse visait à adapter des tâches de la batterie Fonction Exécutive chez l'Enfant (FÉE) à la culture marocaine et à fournir des données normatives préliminaires sur le développement de quatre processus exécutifs communément identifiés que sont l'inhibition, la mémoire de travail, la flexibilité cognitive et la planification. Dans cette perspective, nous avons 1) réalisé une procédure d'adaptation de la batterie FÉE de type Translation-Backtranslation et 2) analysé les trajectoires du développement exécutif auprès de 115 enfants Marocains d'âge scolaire. L'effet du genre, du niveau d'éducation parentale, et du multilinguisme a également été examiné.Les résultats ont montré que les étapes d'adaptation ont été suffisantes pour la bonne compréhension des épreuves par les enfants marocains. Un effet global de l'âge sur les performances exécutives a été constaté. S'agissant du genre et du niveau d'éducation des parents, l'analyse n'a pas montré d'effet sur les résultats aux tâches exécutives. Concernant le multilinguisme, un effet sur les performances de chaque processus exécutif a été constaté, avec de meilleurs résultats pour les enfants multilingues par rapport à leurs pairs bilingues. Dans l'ensemble, les données suggèrent un développement progressif des FE chez l'enfant marocain. Du fait de la rareté des outils validés, cette thèse permet de contribuer à l'émergence de la neuropsychologie au Maroc et de favoriser par la suite un meilleur dépistage des troubles exécutifs et un accompagnement adéquat de l'enfant.
Fichier principal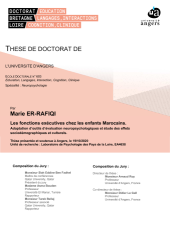 pdffix_ER_RAFIQI.pdf (7.81 Mo)
Télécharger le fichier
Origin : Version validated by the jury (STAR)