Cognitive stakes of hypertextual organization of knowledge.
Les enjeux cognitifs et stylistiques de l'organisation hypertextuelle : le Lieu, Le Lien, Le Livre
We explain how perception and practices related to hypertextual organization are enabling deep changes in our relation to documents and more globally to organization of knowledge. The analysis of these transformations enables us to specify how gradually a new cognitive ecology is set up.
L'enjeu de ce doctorat est de montrer comment la perception et les pratiques liées à la figure de l'hypertexte permettent d'entrevoir de profonds bouleversements dans notre rapport à l'écrit (document numérique, nouveaux genres littéraires, textualité renouvelée), à l'organisation de la connaissance, ainsi qu'à la manière dont s'agrègent, se constituent, se développent et se transforment les différents types de rapport au réel présents dans toute organisation sociale réticulée. L'analyse critique de ces transformations nous permet de préciser comment se met progressivement en place une nouvelle écologie cognitive, en quoi elle est rendue nécessaire, et quels sont les outils (typologie englobante des processus de liaison entre entités) et les pratiques sociales émergentes qui la fondent.

Dans notre premier chapitre, nous faisons d'abord un point sur les effets déjà mesurables de l'organisation hypertextuelle dans le rapport à l'écrit pour isoler les transformations cognitives occasionnées par ce nouveau support, pour isoler également la nouvelle organisation des structures traditionnelles de l'énonciation dans le processus de communication (rapports auteur-lecteur, agencements collectifs d'énonciation). Nous concluons par une typologie des nouveaux genres hypertextuels (liés notamment à l'utilisation de générateurs) et sur le statut littéraire de ces productions.
Notre second chapitre aborde les aspects plus « théoriques » de l'organisation hypertextuelle au travers de l'étude systématique de ses procédés de liaison. Après un état de l'art de la question, nous définissons une typologie englobante des liens hypertextuels prenant en compte leurs aspects informatiques, les structures rhétoriques et formelles qui les sous-tendent et les différents types de rapport entre ces « entités-liens » autorisant à qualifier différentes organisations hypertextuelles. Sur tous ces points, les propositions formulées dans ce travail devront permettre d'améliorer les pratiques de navigation et de réduire certains effets liés (surcharge cognitive, désorientation).
Notre troisième chapitre montre que ce que ces liens révèlent du fonctionnement de la pensée humaine (mode essentiellement associatif) est en train de changer la manière dont les systèmes et les organisations sociales se constituent et se développent, en mettant en place, de manière effective, des artefacts et de processus habituellement implicites et dont l'enjeu sera, pour le chercheur, d'accompagner le passage à l'explicite. Ce dernier chapitre s'appuie sur le dispositif expérimental FoRSIC et l'utilisation qu'il fait de différents types ontologiques, ce dernier étant caractéristique des ces nouveaux rapports au savoir que notre travail essaie de qualifier plus que de quantifier.
Fichier principal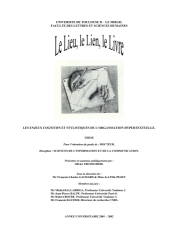 tel-000062601.pdf (4.86 Mo)
Télécharger le fichier
tel-00006260.pdf (1.06 Mo)
Télécharger le fichier