Annotation's models and tools for a teacher's personal memory
Modèles et outils d'annotations pour une mémoire personnelle de l'enseignant
Within the technology enhanced learning research area, this thesis aims at defining and proposing to teachers a computerized memory as a personal knowledge management tool. This memory is based on the annotations that he has made on his pedagogical documents. The proposed memory extends the teacher's cognitive capacities by assisting him unobtrusively in the management of his knowledge which is necessary for the realization of his activities.
By taking into account the teaching activity specificity (implied knowledge, context of the activity) in the memory models, it enables us to obtain both a teacher's dedicated memory and a teaching context-aware memory.
Two versions of the tool were developed: a portable version and a web version (implemented by the company Pentila) which can be integrated into an LCMS.
Dans le cadre des recherches sur les environnements informatiques pour l'apprentissage humain, cette thèse vise à définir et proposer à l'enseignant une mémoire informatisée comme outil de gestion de connaissances personnelles. Cette mémoire est construite a partir des annotations de l'enseignant sur les documents pédagogiques.
La mémoire résultante étend les capacités cognitives de l'enseignant en l'assistant dans la gestion de ses connaissances personnelles, nécessaires à la réalisation de ses activités de manière non intrusive.
La prise en compte des particularités de l'activité d'enseignement (connaissances impliquées, contexte de l'activité...) dans les modèles de la mémoire permet d'obtenir une mémoire qui est en même temps dédiée a l'activité d'enseignement et s'adapte au contexte de cette activité.
Deux versions de l'outil sont développées : une version mobile et une version web (implémentée par l'entreprise Pentila) intégrable dans un ENT.
Fichier principal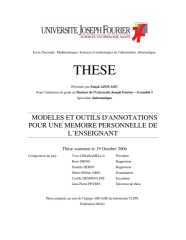 These_Faical-Azouaou.pdf (4.11 Mo)
Télécharger le fichier

Soutenance_Azouaou.pps (5.99 Mo)
Télécharger le fichier