Lemur in linguistics groups of the north-west of Madagascar and the south of mayotte
Le lémurien das les groupes linguistiques du nord-ouest de Madagascar et du sud de Mayotte : Eléments pour une Anthropologie de la biodiversité
The research proposal concerns the interactions of local populations with lemurs. These endemic animals of Madagascar, threatened with extinction by massive deforestation, represent more than fifty different species and subspecies, several of which have migrated to the Comores Islands.
Our research proposal will study the state of knowledge of lemurs, the popular representations and the techniques and the methods for classification adopted by local communities using traditional know-how. The aim is to acquire a better understanding of what binds these populations to their settlements, so as to distinguish their "needs" and their impacts, and also their potential role in the conservation and the protection of biodiversity.My grounds of investigations concentrated in Madagascar were located mainly on the West coast of the Large Island near the Sakalava ethnos groups of Boina, Tsimiety and Bestimisaraka, and in the South of Mayotte.
Ce travail de recherche traite des interactions des hommes et des lémuriens. Ces animaux endémiques de Madagascar, menacés de disparition par la déforestation, représentent à eux seuls plus de cinquante espèces et sous-espèces différentes, dont quelques-unes ont été implantées sur les îles Comores. Les recherches de l'auteure se sont portées sur les connaissances et les représentations, les techniques d'utilisation et les méthodes de classification des sociétés dites traditionnelles à l'égard de leur environnement naturel, en vue d'une meilleure compréhension de ce qui lie ces groupes humains à leur milieu, pour mieux définir à la fois leurs besoins et leurs impacts, mais également leur rôle potentiel dans la conservation et la protection de la biodiversité. Les terrains d'enquêtes à Madagascar étaient situés principalement sur la côte Ouest de la Grande Ile auprès des ethnies Sakalava du Boina, Tsimiety et Bestimisaraka, et sur la côte sud de Mayotte où se sont implantées des populations malgaches.
Fichier principal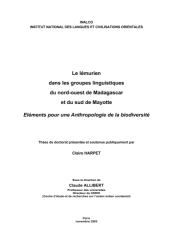 These.pdf (20.02 Mo)
Télécharger le fichier

PresentationTheseSynthese.doc (37 Ko)
Télécharger le fichier