LES CRISPRS, INSTRUMENTS D'ETUDE DE L'EVOLUTION INTER ET INTRA-SPÉCIFIQUE CHEZ LES MICROORGANISMES
Clustered, Regularly Interspaced Short Palindromic Repeat (CRISPR) system is a putative RNA-interference-based immune system conferring an acquired resistance against foreign DNA agressions in prokaryotes. It consists of a succession of highly conserved regions (DR) varying in size from 23 to 47 bp, separated by similarly sized unique sequences (spacer) of usually viral origin. Polymorphism can be observed in different strains of a species and may be used for genotyping. This thesis describes three bioinformatics tools available freely on the web (http://crispr.u-psud.fr) and their applications for the CRISPR investigations and typing. The first one is CRISPRFinder, a tool that allows the identification of CRISPRs from published genomes. The second one is CRISPRdb, a database of CRISPRs in the sequenced prokaryotes and several associated tools to facilitate its query and the CRISPRs investigations. The third tool is CRISPRcompar for the identification and comparison of CRISPRs loci and their component determination.
Les CRISPRs constituent une famille particulière d'éléments génétiques, retrouvés dans de nombreux génomes de procaryotes (la moitié des bactéries et presque toutes les archées). Des études récentes suggèrent que cette structure représente un système de défense contre les ADNs étrangers fonctionnant grâce à un mécanisme d'interférence ARN. Les CRISPRs consistent en la succession de régions très bien conservées (DR) dont la taille varie de 23 à 47 pb, séparées par des séquences uniques d'une taille similaire et ayant en général une origine virale. Le polymorphisme observé entre différentes souches de la même espèce fait du CRISPR un marqueur génétique intéressant pour des analyses comparatives de souches bactériennes très proches et pour des études phylogénétiques. Cette thèse décrira trois outils bioinformatiques accessibles à l'adresse (http://crispr.u-psud.fr) et leurs applications dans l'investigation et le typage des CRISPRs. Le premier outil est CRISPRFinder qui est un programme d'identification des CRISPRs à partir des séquences génomiques. Le deuxième est la base de données CRISPRdb et ses utilitaires qui fournissent un accès aux CRISPRs de tous les génomes procaryotes séquencés. le troisième outil est CRISPRcompar qui sert à identifier et comparer les CRISPRs dans des génomes proches pour faciliter la procédure de typage.
Fichier principal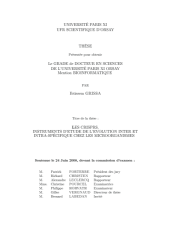 REPORT.pdf (10.51 Mo)
Télécharger le fichier
IGv7.ppt (3.85 Mo)
Télécharger le fichier