Cross-talks between cAMP and IL-1 signaling pathways in the regulation of IL-6 expression and IL-6 effects in thyroïd cells and in rat cardiomyocytes.
Dialogues entre les voies de signalisation de l'AMPc et celles de l'IL-1 dans la régulation de l'expression de l'IL-6 et rôle de l'IL-6 dans les thyrocytes et dans les cardiomyocytes.
The interleukin-6 (IL-6) is a cytokine associated with auto-immune thyroid diseases and could be also involved in pathological cardiac hypertrophy. In FRTL-5 thyroid cells and in adult rat cardiomyocytes, we show that both IL-6 secretion and mRNA expression, stimulated by interleukin-1 (IL-1), are enhanced by cAMP/PKA pathway in a synergistic manner. In FRTL-5 cells, this synergistic effect occurs also at a post-transcriptional level by increasing IL-6 promoter activation. This synergic effect involves AP-1 and CRE binding sites of IL-6 promoter and also c-Fos and Fra2 transcription factors. IL-6 and its membrane-bound receptor stimulate STAT3 and ERK-5 signaling pathways in FRTL-5 cells. In cardiomyocytes, STAT3 is activated by IL-6 only in the presence of its soluble receptor. We show that this mechanism conduces to increase protein synthesis and expression of markers associated to the pathological hypertrophy.
L'interleukine-6 (IL-6) est une cytokine associée aux maladies auto-immunes de la glande thyroïde et qui pourrait aussi avoir un rôle dans le développement de l'hypertrophie cardiaque pathologique. Dans les cellules thyroïdiennes FRTL-5 et dans les cardiomyocytes de rats adultes, nous montrons que la sécrétion et l'expression de l'ARNm de l'IL-6, stimulées par l'interleukine-1 (IL-1), sont augmentées de manière synergique par la voie de l'AMPc/PKA. Dans les cellules FRTL-5, cet effet synergique s'exerce aussi au niveau de l'activation du promoteur de l'IL-6 et implique les sites AP-1 et CRE ainsi que les facteurs de transcription c-Fos et Fra2. L'IL-6 et son récepteur membranaire stimulent les voies de signalisation impliquant STAT3 et ERK-5 dans les cellules FRTL-5. Dans les cardiomyocytes, STAT3 est activé par l'IL-6 uniquement en présence de son récepteur soluble. Nous montrons que ce mécanisme de conduit à la stimulation de marqueurs associés au processus hypertrophique pathologique.
Fichier principal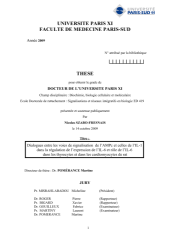 nsf.pdf (3.92 Mo)
Télécharger le fichier
presentation_nsf.pdf (1.46 Mo)
Télécharger le fichier