DISCOURSE PRACTICES IN AN ONLINE TRAINING IN TEACHING FRENCH AS A FOREIGN LANGUAGE: an analysis of asynchronous pedagogical communication.
PRATIQUES DISCURSIVES DANS UNE FORMATION EN LIGNE A LA DIDACTIQUE DU FRANÇAIS LANGUE ETRANGERE : une analyse de la communication pédagogique asynchrone.
This research focuses on pedagogical communication via the Internet which took place within the framework of a training course for teachers of French as a Foreign Language during the 2004-2005 academic year. The initial postulate on which this work is based is the following: contrary to traditional distance-learning courses, online courses are supposed to allow the creation of links which partially mitigate physical isolation, these links being both socio-affective and socio-cognitive. In the first case, it is a question of creating a feeling of community and thus of breaking the isolation of the distance-learning student. In the second, it involves improving the quality of learning through interaction between the various members of the group. However if the role of the communication between the members is essential, the computer mediated communication in a pedagogical context doesn't go without saying either for the teacher-tutors, or for the learners. Which discursive practices do the actors implement in this new almost exclusively verbal and written enunciative device which are the fully online trainings? In order to respond to this general problem, this research questions the types of tasks which create participation and make interactivity between members easier, the editing forms of the online instructions, the different tutoral practices throughout the course and the constitution of an online learning community. The method involves a triangulation of the data. A discourse analysis which enables to identify both socio-affective and socio-cognitive phenomena is applied to the online interactions of the corpus of study. Interviews and questionnaires clarify the analysis of the experience and the feeling of the different actors in the interpretation phases. So throughout the description of a case of asynchronous pedagogical communication this work attempts to better understand the different, mainly discursive, practices of the actors in an online training course.
Cette recherche a pour objet la communication pédagogique via Internet qui a eu lieu dans le cadre d'une formation d'enseignants de français langue étrangère entièrement à distance, tout au long de l'année universitaire 2004-2005. Le postulat de départ sur lequel se fonde ce travail est le suivant : contrairement aux formations à distance traditionnelles, les formations en ligne sont censées créer des liens qui pallient en partie l'éloignement physique, ces liens étant de nature à la fois socio-affective et sociocognitive. Dans le premier cas, il s'agit de créer un sentiment de communauté et de rompre ainsi l'isolement de l'étudiant à distance, dans le second d'améliorer la qualité de l'apprentissage à travers les interactions entre les différents membres du groupe. Or, si le rôle de la communication entre les membres est primordial, la communication par média interposé dans un contexte pédagogique ne va de soi ni pour les enseignants-tuteurs, ni pour les apprenants. Quelles pratiques discursives les acteurs mettent-ils en œuvre dans ce nouveau dispositif énonciatif presqu'exclusivement verbal et écrit que sont les formations entièrement en ligne ? Afin d'éclairer cette problématique générale, la recherche s'interroge sur les types de tâches qui suscitent la participation et facilitent l'interactivité entre les membres, sur les modalités de rédaction des consignes en ligne, sur les différentes pratiques tutorales tout au long du suivi et sur la constitution d'une communauté en ligne d'apprentissage. La méthode s'appuie sur la triangulation des données. Aux échanges en ligne du corpus d'étude est appliquée une analyse de discours, qui permet de repérer aussi bien les phénomènes d'ordre socio-affectif que ceux d'ordre sociocognitif. Des entretiens et des questionnaires viennent éclairer l'analyse du vécu et du ressenti des différents acteurs dans les phases d'interprétation. Ce travail tente donc à travers la description d'un cas de communication pédagogique asynchrone de mieux comprendre les différentes pratiques, principalement discursives, des acteurs d'une formation en ligne.
Fichier principal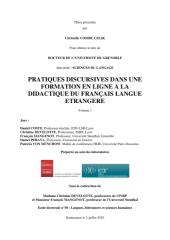 These_Celik_2010_Vol1.pdf (7.57 Mo)
Télécharger le fichier
Soutenance_Celik_2010.ppsx (2.36 Mo)
Télécharger le fichier
These_Celik_2010_Vol2.pdf (2.24 Mo)
Télécharger le fichier