.
Recherche des oscillations de neutrinos par apparition du τ avec désintégration muonique du vτ dans l'expérience OPERA
The physics of neutrino oscillations plays a major role in studies concerned with cetteparticule. The mechanism of oscillations, based on a change of state of a neutrino flavor during sapropagation, elucidates the deficits observed solar and atmospheric neutrinos and provides indicationsintéressantes of physics beyond the Standard Model by studying the angles mixtures and mass desneutrinos.OPERA scheme is a hybrid sensor combining both latechnique an electronic real-time detection technology and the cloud chamber emulsion or ECC (EmulsionCloud chamber). The ECC is a solid detector detector (target) consisting of bricks dontchacune 150000 consists of sheets of lead, used as a target, with alternate nuclear emulsion whose traces laprécision reconstruction is of the order of one micron. The detector also includes two spectromètresavec magnetized iron plates 5 cm alternating with RPC (Resistive Plate Chamber) detectors associated with six sets of drift tubes (PT) to measure the charge and momentum of the muon thickness and plan vetoservant the rejection of foreign particles to the target.
La physique des oscillations de neutrinos occupe une place majeure dans les études s'intéressant à cetteparticule. Le mécanisme des oscillations, basé sur un changement d'état de saveur d'un neutrino durant sapropagation, permet d'élucider les déficits observés de neutrinos solaires et atmosphériques et apporte des indicationsintéressantes de physique au delà du Modèle Standard par l'étude des angles de mélanges et du schéma de masse desneutrinos.OPERA est un détecteur hybride combinant à la fois latechnique d'une détection électronique en temps réel et la technique de la chambre à brouillard à émulsion ou ECC(EmulsionCloud Chamber). Le détecteur ECC est un détecteur massif (cible) composé de 150000 briques dontchacune est constituée de feuilles de plombs, utilisées comme cible, alternées avec des émulsions nucléaires dont laprécision de reconstruction des traces est de l'ordre du micron. Le détecteur comprend également deux spectromètresavec des plaques de fer magnétisé de 5 cm d'épaisseur alternées avec les détecteurs RPC (Resistive Plate Chamber)associés à six ensembles de drift tubes (PT) pour la mesure de la charge et de l'impulsion du muon, et un plan de vetoservant à la rejection des particules extérieures à la cible.
Fichier principal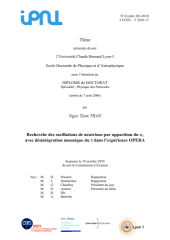 TH2010_Tran_-_Ngoc_-_Tiem.pdf (48.3 Mo)
Télécharger le fichier
Origin : Version validated by the jury (STAR)