The Breton Troménies. A mode of anthropisation from space to the consideration of circulars processions French and Belgian.
Les troménies bretonnes. Un mode d'anthropisation de l'espace à l'examen des processions giratoires françaises et belges.
This study of anthropology and religious studies examining the process of sacralization of territory through the giratory community processions, known in Britain under the name "Troménies" (from the Breton language tro + minihi, translatable by « around the monachia », the territory pertaining to a Celtic monastery in the early Middle Ages). They are characterized by a clockwise cirumambulation as a customary Catholic ritual gesture commemorating the founding by the parish saint patron. Eight Troménies (Bourbriac, Gouesnou, Landeleau, Locquénolé, Locmaria-Quimper, Locronan) are placed next to French examples (Ceaucé, Magnac-Laval, Larchant) and Belgium (Mons, Nivelles, Ronse, Saintes, Soignies). The study focuses on the symbolic analysis of all items requested by the ritual : place names, history, geography, hagiography, liturgy, ethnography, mythology, folklore.
Cette étude d'ethnologie et de sciences religieuses étudie le processus de sacralisation de territoire, au travers des processions giratoires communautaires, connues en Bretagne sous le nom de « troménies », du breton tro + minihi, traduisible par le tour de la monachia, des terres d'un monastère celtique du haut Moyen Âge. Elles se caractérisent par l'aspect giratoire de la pérambulation, dans un sens de circulation dextrogyre, au sein d'un rituel catholique coutumier commémorant le geste fondateur du saint patron de la paroisse. Huit troménies (Bourbriac, Gouesnou, Landeleau, Locquénolé, Locmaria-Quimper, Locronan) sont mises en regard d'exemples français (Ceaucé, Magnac-Laval, Larchant) et belges (Mons, Nivelles, Renaix, Saintes, Soignies). L'étude privilégie l'analyse symbolique de l'ensemble des éléments sollicités par le rituel : toponymie, histoire, géographie, hagiographie, liturgie, ethnographie, mythologie, folklore
Fichier principal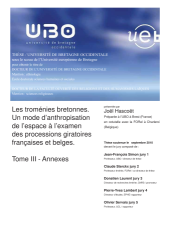 Joel_Hascoet_2010_These_vol_III.pdf (28.56 Mo)
Télécharger le fichier
Joel_Hascoet_2010_These_vol_I.pdf (1.43 Mo)
Télécharger le fichier
Joel_Hascoet_2010_These_vol_II.pdf (1.23 Mo)
Télécharger le fichier