On generic support of composition operators in software component models, application to high performance computing.
Du support générique d'opérateurs de composition dans les modèles de composants logiciels, application au calcul à haute performance.
Scientific applications are a real challenge for programmers due to their complexity and the amount of data they manipulate. Their execution requires the use of complex and varied hardware resources such as supercomputers, computing clusters and grids. Software component models and specifically those that offer composition schemas dedicated to high performance computing offer an interesting approach for their development. They make it possible for applications to abstract themselves from hardware resources and to obtain high performances on a vast range of architectures. These models do however remain restricted to a limited set of composition schemas. This leads to a multiplication of models as soon as new composition forms are required. This is a problem for code reuse that is stated as one of the motivations behind software component models. The complexity of modifying existing software component models is also limiting these efforts. This thesis defines a software component model called HLCM in which new composition operators can be introduced without modifying the model. This is possible thanks to the introduction in HLCM of four concepts: hierarchy, connectors, genericity and implementation choice. In order to increase code reuse, this component model is abstract and it is made concrete in specialisations that are based on primitive elements of existing models. During this thesis, we have studied how the concept of genericity can be applied to software component models and we have proposed an approach to implement it. We have studied the problem that arises when combining the concepts of connectors and hierarchy and we have proposed a solution based on the novel approach for the description of interactions amongst components. We have also described an approach for the implementation of HLCM based on concepts originating in the field of model-based software engineering. These propositions have been validated by the development of a prototype implementation of HLCM/ CCM, a specialisation of HLCM based of the CORBA Component Model (CCM). This implementation has been used to describe complex interactions between components (shared memory and parallel method calls) and to ensure an efficient execution on various hardware resources such as the Grid'5000 experimental platform.
Les applications scientifiques posent un véritable défi de par leur complexité et la quantité de données qu'elles traitent. Leur exécution nécessite l'utilisation de ressources matérielles complexes et variées comme les super-calculateurs, les grappes et les grilles de calcul. Les modèles de composants logiciels et en particulier ceux qui proposent des schémas de composition adaptés au calcul à haute performance offrent une piste intéressante pour leur développement. Ces derniers permettent aux applications de s'abstraire des ressources d'exécution et de favoriser ainsi les performances à l'exécution sur une grande gammes d'architectures. Ces modèles restent toutefois limités à un ensemble restreint de schémas de composition. Il en résulte une multiplication des modèles dès que de nouvelles formes de composition apparaissent nécessaires, ce qui est dommageable à l'objectif de réutilisation. La complexité de modifier un modèle existant pour y intégrer de nouveaux opérateurs de composition défavorise aussi ces efforts. Cette thèse propose un modèle de composants logiciels appelé HLCM dans lequel de nouveaux opérateurs de composition peuvent être introduits sans modification du modèle. Ceci est rendu possible par l'introduction en son sein de quatre concepts : la hiérarchie, les connecteurs, la généricité et le choix de mise en œuvre. Afin de favoriser la réutilisation de l'existant, ce modèle est abstrait et il est rendu concret dans des spécialisations qui s'appuient sur les éléments primitifs de modèles existants. Au cours de ces travaux, nous avons étudié comment le concept de généricité pouvait s'appliquer aux modèles de composants et nous avons proposé une approche pour l'y intégrer. Nous avons étudié les interactions problématiques entre les concepts de connecteur et de hiérarchie et avons offert une solution s'appuyant sur une nouvelle approche pour la description des connexions entre composants. Finalement, nous avons proposé une approche pour la mise en œuvre de HLCM qui s'appuie sur des principes issus de l'ingénierie basée sur les modèles. Ces travaux ont été validés en développant un prototype de mise en œuvre de HLCM/CCM, une spécialisation de HLCM qui s'appuie sur le modèle de composant de Corba (CCM). Il a été utilisé pour décrire des interactions complexes entre composants (mémoire partagée et appels de méthode parallèles) et assurer une exécution efficace sur des ressources matérielles variées, notamment sur Grid'5000.
Fichier principal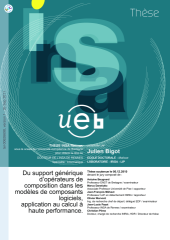 thesis_jbigot.pdf (5.69 Mo)
Télécharger le fichier
phd_slides.ppt (4.51 Mo)
Télécharger le fichier