« Animals as Therapists. » : Socio-anthropological approach of ·the Emergence of Animals in Care Practices.
"L'animal thérapeute". : Socio-anthropologie de l'émergence du soin par le contact animalier
Since forty years, place of the animals become problematic in the contemporary western societies. The ascent of the social consideration of the interests of animals, benevolence towards them, recomposes the "traditional " and "modem" representations of the animal kingdom. Through the exemple of the development of the practices of care using animal contact (Zootherapy, Animal-Assisted Therapy) I analyze the mechanisms of revalorization of the animal presence with the buman beings. These practices contribute to the advent of a new regime of anthrozoological companionship, in which the benevolence towards the animal plays a big role. The hypothesis of this work is that the recognition of a therapeutic value in the contact with animais allows to return thisjustifiable benevolence and to enlist a whole actors' network authorizing the large-scale development of this new "relational regime." I followed how the conviction tbat interaction with the animal improves a "classic" relation of care, was born, spread, put to the test of the scientific work, and became accomplished in concrete practices. The first part approaches the constitution of a field of autonomous knowledge about interactions with animals with therapeutic purpose, through a bibliographical analysis. The second part deals with actors' networks whichh promoted the care by the animal contact, its development, its professionalization and its standardization. Finally, the third part describes more particularly the situated practices, through the analysis of ethnographicalobservations and interviews.
Depuis une quarantaine d'années la place des animaux est devenue problématique et a été re-problématisée dans les sociétés occidentales contemporaines. La montée de la prise en compte sociale des intérêts des animaux, de la bienveillance à leur égard, recompose les représentations << traditionnelles » et « modernes » du monde animal. A travers l'exemple du développement des pratiques de soin par le contact animalier (Zoothérapie, Thérapie Assistée par l'Animal, Médiation Animale ... ), j'analyse les mécanismes de revalorisation de la présence animale auprès des humains. Ces pratiques contribuent à l'avènement d'un nouveau régime de compagnonnage anthropozoologique, dans lequel la bienveillance vis,à-vis de l'animal occupe une grande place. L'hypothèse de ce travail est que la reconnaissance d'une valeur thérapeutique au contact avec l'animal permet de rendre cette bienveillance légitime et d'enrôler tout un réseau d'acteurs autorisant le développement à grande échelle de ce nouveau régime relationnel. Ainsi, j'ai suivi comment la conviction selon laquelle l'interaction avec l'animal améliore une relation de soin "classique", a pu naître, être diffusée, mise à l'épreuve du travail scientifique, et s'actualiser dans des pratiques concrètes. La première partie aborde la constitution d'un champ de savoir autonome autour des questions de l'interaction avec l'animal à but thérapeutique, à travers une analyse bibliographique. La deuxième partie traite des réseaux d'acteurs qui ont promu le soin par le contact animalier,son développement, sa professionnalisation et sa standardisation. Enfin, une troisième partie décrit plus particulièrement les pratiques, en situation, à travers l'analyse d'observations ethnographiques et d'entretiens.
Fichier principal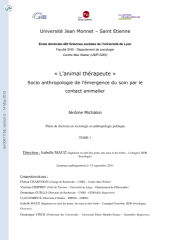 These_-_Jerome_-_Michalon.pdf (7.71 Mo)
Télécharger le fichier
Origin : Version validated by the jury (STAR)