Symphonic metal world : towards an art work sociology as continued creation, the example of Nightwish.
Le monde du métal symphonique : vers une sociologie de l'oeuvre comme création continuée, l'exemple de Nightwish.
Symphonic metal is a musical genre that mixes classical music with metal music. Nightwish, a band from Finland, is one of the most recognized of the genre. Starting with its musical art works, this thesis questions, with a sociological approaches, the combinatorial dimension of its symphonic metal. References sources from different origins – symphonic metal has everything of an oxymoron – are assembled, maybe continued by Nightwish. From the collective elaboration of a band which models, by the individual peculiarities of its members, the art works it makes, to Nightwish' amateurs practices, by way of the influences of the band and its imaginary world, this thesis follows – in the art work process – the idea of continuation. From an actor of Nightwish' world to another, would musical art work not be a continued process, a resurrection, at each listening, of a mythic creature, made and remade, again and again?
Le metal symphonique est un genre musical qui mêle la musique classique à la musique metal. Nightwish, un groupe d'origine finlandaise, est parmi les représentants les plus reconnus du genre. Prenant pour point de départ les œuvres musicales de ce dernier, la présente recherche interroge, d'un point de vu sociologique, la dimension combinatoire de son metal symphonique. Des sources d'origines différentes – le metal symphonique a tout d'un oxymore – sont assemblées, peut-être continuées par Nightwish. De la construction collective d'un groupe qui modèle, par les particularités individuelles de ses membres, les œuvres qu'il réalise, aux pratiques des amateurs de Nightwish, en passant par les influences du groupe et son monde imaginaire, cette thèse suit – dans le processus de l'œuvre – la trace de la continuation. D'un acteur du monde Nightwish à l'autre, l'œuvre musicale ne serait-elle pas un processus continué, une résurrection, à chaque audition, d'une créature mythique, créée et recréée sans cesse ?
Fichier principal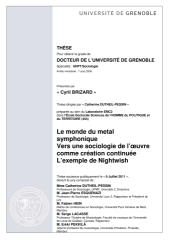 31506_BRIZARD_2011_archivage.pdf.pdf (12.33 Mo)
Télécharger le fichier
Origin : Version validated by the jury (STAR)