The microfinance in Egypt and in Tunisia : a tool in the service of the local development
La microfinance en Tunisie et en Egypte : un outil au service du développement local.
Microfinance in Egypt and in Tunisia as well has been given for decades an answer to the permanent need from populations that are excluded from the formal banking system. These populations have no other sources of finance than that of microfinance. These funds are mainly, microcredit, savings and insurance. Our research questions the influence and the capacity that microfinance exerts upon both countries especially on their participation to another development mode, local and socially sustainable. To address these questions we adopted a hybrid methodology (in depth documentation, interviews and surveys with questionnaires).This method has permitted to shed a better light on the microfinance issue through a typology of microfinance institutions and through their ability to meet the demand from the populations of rural and suburban areas in Tunisia and Egypt. Our main theoretical contribution is to make it clear that this whole set of elements allows an analysis about the impact of microfinance on development. To what extent does it enable the people to escape from poverty, what is its place in the local development especially in the rural and suburban areas in the large cities like Tunis and Cairo ? Here are the main questions we could deal with.
La microfinance en Egypte comme en Tunisie répond depuis plusieurs décennies à un besoin permanent des populations qui sont exclues du système financier formel. Ces populations n'ont d'autres sources de financement que celles mises à disposition par les institutions de microfinance. Ces financements sont majoritairement axés sur le microcrédit, l'épargne, et les produits d'assurance. Notre recherche interroge l'influence et la capacité que la microfinance exerce dans les deux pays notamment pour leur participation à un autre mode de développement, local et socialement soutenable. Pour répondre à ces interrogations nous avons adopté une méthodologie mixte (recherche documentaire, interviews et enquêtes par questionnaires).Cette méthodologie a permis de mieux éclairer le problème de la microfinance à travers une typologie des institutions impliquées et de la capacité de ces institutions à faire face à la demande des populations dans les zones périurbaines et rurales de la Tunisie et de l'Egypte. Notre principale contribution théorique est de mettre en évidence que cet ensemble d'éléments constitutifs permet une analyse de l'impact de la microfinance sur le développement dans ces deux pays. Dans quelle mesure a-t-elle permis à la population de sortir de la pauvreté, quelle est sa place dans le développement local notamment dans les zones rurales et dans la périphérie des grandes villes du Caire et de Tunis ? Telles sont les principales questions que nous avons pu traiter.
Fichier principal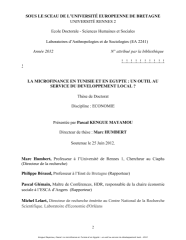 2012theseKengueMayamouP.pdf (4.1 Mo)
Télécharger le fichier
Origin : Version validated by the jury (STAR)