Das Deutsch Filmrezeption durch französisch Film Presse zwischen 1921 und 1933
The German film reception by French movie press beetwen 1921 and 1933
La réception du cinéma allemand par la presse cinématographique française entre 1921 et 1933
Schon vor der ersten Aufführung eines deutschen Films in Frankreich setzt sich die französische Fachpresse dafür ein, die Produktionen des Erbfeinds als reine Propagandawerke herabzuwürdigen. Erst Ende des Jahres 1921 gelingt es Louis Delluc einen deutschen Film in Frankreich zu zeigen. Auf chauvinistische und nationalistische Reaktionen folgen schnell besonnenere Kommentare. Diese Analysen basieren auf Stereotypen, die einer romantischen Vision Deutschlands entspringen, wie sie Madame de Staël beschrieben hat. Die Kritiken stellen den Welterfolg des deutschen Kinos, als Überlegenheit der europäischen Kulturen über die "junge" amerikanische Zivilisation, dar. Von jetzt ab werden die deutschen Produktionen zu einem Model für das französische Kino. Mit "Die Nibelungen" oder "Faust" erscheint die deutsche Kinokunst den Kritikern wie eine Urform der europäischen Kultur. Diese Filme repräsentieren zwar die deutsche Identität, reichen aber über nationale Grenzen hinaus, um eine universelle Form zu erreichen, die durch die wirtschaftlichen Erfolge der Produktionen Mitte der 20er Jahre bezeugt wird. Das Erscheinen des Tonfilms führt zu einer Erneuerung der deutsch-französischen Beziehungen. Zusammenarbeit ist von nun ab ein Kennzeichen der Filmproduktion des Beginns der 30er Jahre. Dies wird durch Herstellung von verschiedenen Versionen deutlich. Auf beiden Seiten des Rheins kooperieren die Filmemacher bei der Erschaffung des europäischen Kinos, ohne dabei die wichtige national Verankerung des Films zu vernachlässigen. Bis zum Januar 1933 gibt es einen mannigfaltigen deutsch-französischen Kulturaustausch. Dennoch findet die deutsche Emigration in die Pariser Studios keinen wohlwollenden Empfang.
Just after the first World War, French critics commented German film like an industrial or propaganda product. It was until the end of 1921, that Louis Delluc showed a first German movie in France. After some nationalists reactions, critics built around stereotypes an romantic vision of German films. These romantics visions maded by Madame de Staël in the beginning of 19 century. For French critics, the german production worlwide success proved the suporiority of European culture to the " young " american civilization. With The Nibelungen or Faust, these features represented German identity. But these film beyond nationalist space to acceded universal signification. Germans productions became the archetype of European Culture in the middle of the 1920s. In the beginning of the 1930s, talkies transformed French-German relations. There were a lot of collaboration on both side of the Rhine: of course, in Babelsberg studios – the most important in European space – and Parisians studios too. For example, Georg Wilhelm Pabst realized three differents versions of Die Dreigroschenoper : the first in german language, a second in french and the third in english. Pabst worked with differents actors and differents technincian. French and German works together – in some case English – to build European cinema without losing national identity. Until January 1933, the French German cultural transfers were multiple. However, the German Emigration didn't find acceptance in the Parisan studios.
Avant même la première distribution d'un film allemand en France, la presse spécialisée s'emploie à dénigrer les productions de l'ennemi héréditaire qui sont réduites à des œuvres de propagande. Ce n'est qu'à la fin de l'année 1921 que Louis Delluc parvient à projeter un premier film germanique. Aux réactions chauvines et nationalistes succèdent rapidement des commentaires plus réfléchis. Ces analyses sont construites sur des stéréotypes issus d'une vision romantique de l'Allemagne telle que Madame de Staël a pu la décrire. Pour les critiques, le succès mondial du cinéma d'outre-Rhin montre la supériorité des cultures européennes sur la « jeune » civilisation américaine. Dès lors, les productions allemandes deviennent un modèle pour le cinéma hexagonal. Avec Les Nibelungen ou Faust, le 7ème art allemand apparaît aux yeux de la critique comme l'archétype de la culture européenne. Ces longs métrages sont représentatifs de l'identité allemande mais dépassent les cadres nationaux pour atteindre une forme d'universel qu'atteste les réussites économiques des productions du milieu des années 1920. L'apparition du cinéma parlant renouvelle les relations franco-allemandes. Les collaborations sont désormais le lot commun des réalisations du début des années 1930 ce que symbolise la production de versions multiples. De part et d'autre du Rhin, les professionnels coopèrent à l'édification d'un cinéma européen sans pour autant perdre de vue l'indispensable ancrage national des films. Des transferts culturels franco-allemands seront multiples jusqu'en janvier 1933. Toutefois l'émigration allemande ne trouvera pas un accueil favorable dans les studios parisiens.
Fichier principal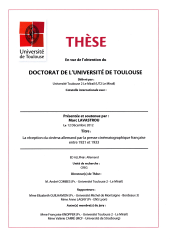 Lavastrou_Marc.pdf (2.58 Mo)
Télécharger le fichier
Origin : Version validated by the jury (STAR)