Place and status of foreign languages in the French public libraries : a case for information sciences
Place et images des langues étrangères dans les bibliothèques municipales françaises : un cas pour les sciences de l'information.
Initiated and informed by years of professional experience dedicated to providing foreign language resources in a French public library, this research questions the positioning of the library as an institution anchored in the principle of equal access to public service, in the context of a decline in both attendance and enrolment as well as that of increased international migration and multilingualism. The argument focuses on the transformation of practice and professional representation generated by the introduction of foreign language material in France's municipal libraries and questions the notions of "general public," "information," and "institutional positioning." A quantitative survey assesses the size of the phenomenon. The qualitative survey analyses observations collected during face-to-face interviews with professionals, with non-library users as well as with elected representatives responsible for overseeing public libraries. Results reveal a real, albeit limited evolution: while numerous libraries now provide resources in foreign languages, such offers remain small in terms of both volume and value. They also highlight a lack of understanding of the nature and expectations of target audiences, the disruption of professional practice and representation generated by the acknowledgment of language as one of the criteria to shape the offer of resources, the transformation of the positioning of public librarians, of audiences and, more generally, of an institution not yet substantially involved in the field of foreign languages. In conclusion, the results show that this question goes beyond the sole decision-making power of public libraries themselves and falls more broadly in the remit of territorial and national authorities. Whether the development of foreign language resources in French public libraries is merely a passing shadow or, on the contrary, a significant evolution remains to be determined.
Issu d'une pratique professionnelle consacrée à l'offre en langues étrangères dans une bibliothèque municipale, ce travail de recherche questionne le positionnement de l'institution, basée sur le principe d'égalité d'accès au service public de la lecture, alors que celle-ci cherche à enrayer la baisse de sa fréquentation et celle du nombre de ses inscrits à une époque caractérisée par l'accroissement des mouvements migratoires et l'augmentation conséquente du plurilinguisme. La problématique s'attache aux transformations des pratiques et des représentations des professionnels dans les bibliothèques municipales métropolitaines induites par l'introduction d'une offre en langues étrangères, en questionnant les notions de public, d'information et de positionnement institutionnel. Une première enquête quantitative vise à établir le nombre d'établissements concernés par cette offre singulière et la taille de celle-ci en volume et en valeur ; une seconde enquête qualitative s'attache à l'analyse des propos recueillis lors d'entretiens en face à face avec des professionnels, des non usagers des bibliothèques et des élus dont dépendent ces établissements. Les résultats montrent des bibliothèques nombreuses à proposer ce type d'offre, les faibles volumes et valeurs de celle-ci. Ils soulignent une méconnaissance des publics cibles comme de leurs attentes, le bouleversement des pratiques et des représentations professionnelles engendré par la prise en compte du critère inhabituel de la langue des usagers et des documents, la transformation du positionnement des bibliothécaires, des publics et de l'institution finalement peu investie dans le champ des langues étrangères. Ils montrent que cette question déborde les pouvoirs décisionnels des professionnels, interpelle ceux de la tutelle territoriale et de l'Etat. Ils ne permettent pas de déterminer si l'évolution de cette offre singulière relève plus de l'ombre d'un développement ou d'un développement dans l'ombre.
Fichier principal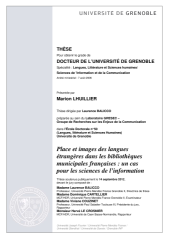 21978_VOCHE_2012_archivage.pdf (5.6 Mo)
Télécharger le fichier
Origin : Version validated by the jury (STAR)