Study, applications and improvements of the LVI technique on the advanced CMOS technologies 45nm and below.
Etude, applications et améliorations de la technique LVI sur les défauts rencontrés dans les technologies CMOS avancées 45nm et inférieur.
The Failure analysis plays an important role in the improvement of the performances and themanufacturing of integrated circuits. Defects can be present at any time in the product chain,during the conception (design), during the qualification, during the production, or still duringits use. It is important to study these defects in order to improve the reliability of the products.Furthermore, with the density increasing and the complexity of the chips, it is harder andharder to localize the defects. This thesis work consists to develop a new failure analysis technique based on the study of thereflected laser beam the "Laser Voltage Imaging" LVI, for the ultimate technologies (below45nm).
L'analyse de défaillances joue un rôle important dans l'amélioration des performances et de la fabrication des circuits intégrés. Des défaillances peuvent intervenir à tout moment dans la chaîne d'un produit, que ce soit au niveau conception, durant la qualification du produit, lors de la production, ou encore lors de son utilisation. Il est donc important d'étudier ces défauts dans le but d'améliorer la fiabilité des produits. De plus, avec l'augmentation de la densité et de la complexité des puces, il est de plus en plus difficile de localiser les défauts, et ce malgré l'amélioration des techniques d'analyses. Ce travail de thèse s'inscrit dans ce contexte et vise à étudier et développer une nouvelle technique d'analyse de défaillance basée sur l'étude de l'onde laser réfléchie le "Laser Voltage Imaging" (LVI) pour l'analyse de défaillance des technologies ultimes (inférieur à 45nm).
Fichier principal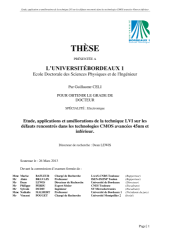 CELI_GUILLAUME_2013.pdf (4.94 Mo)
Télécharger le fichier
Origin : Version validated by the jury (STAR)