Constructing regional HRM : a management device and actor-network theory approach
Construire la GRH territoriale : une approche par les dispositifs de gestion et la théorie de l'acteur-réseau.
This PhD-work aims at characterizing the regional HRM notion, then at understanding how it can be successfully built. This research relies on a theoretical framework built from the management tool and device literature (Hatchuel and Weil, 1992; Oiry, 2003) and from the "actor-network theory" (Akrich et al., 1988, 2006; Callon, 1986; Latour, 1992 This research relies on a multisite and longitudinal case-study realized between 2008 and 2010 and based on two distinct regional projects in France. Our analyses show that these regional HRM devices have been transformed over time. Our results further show that these devices were built differently in terms of "problematisation", "interessement", "enrollment" and "mobilization of allies". In the first case, the translation process remains partial, while the second project produced a more complete translation process.
L'objectif de ce travail doctoral est de caractériser ce que recouvre la notion de GRH territoriale, puis de comprendre comment celle-ci se construit. La recherche s'appuie sur les concepts issus des travaux sur l'instrumentation de gestion (Hatchuel et Weil, 1992 ; Oiry, 2003) ainsi que sur la théorie de l'acteur-réseau (Akrich et al. 1988, 2006 ; Callon, 1986). Une étude de cas multi-sites et longitudinale a été réalisée entre 2008 et 2010 auprès de deux projets de GRH territoriale en France. Les résultats de la recherche montrent que ces dispositifs ont été transformés au fil des négociations réalisées dans le temps entre les acteurs. Les résultats illustrent en outre des modalités de problématisation, d'intéressement, d'enrôlement et de mobilisation des alliés dissemblables, mettant en exergue une traduction partielle dans le cas 1, et une traduction aboutie, au moins temporairement dans le cas 2.
Fichier principal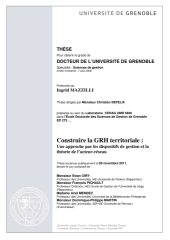 32994_MAZZILLI_2011_diffusion.pdf (5.29 Mo)
Télécharger le fichier
Origin : Version validated by the jury (STAR)