People of saints and pilgrimages in the dioceses of Autun and Nevers : from the martyrs times to the reforms times (fourth to eighteenth centuries)
Pueblo de santos y peregrinaciones en las diócesis de Autun y de Nevers: del tiempo de los mártires al tiempo de las reformas, IV - XVIII siglos
Peuple de saints et pèlerinages dans les diocèses d'Autun et de Nevers : du temps des martyrs au temps des réformes, IVe-XVIIIe siècles
Between the IVth and the XVIIIth century in Burgundy (Nevers to Vezelay area), the number of pilgrimage churches have increased with an important renewal rate. Indeed, the choice of saints, institutions, or objects of devotion depends on various references. Adapting the framework and updating hagiography to the evolution of piety are means of preservation against disinterest and decreased gains. What is miraculous or not is changing and depends on unstable religious and social settings, therefore it becomes necessary to consider both important and sustainable sites than short-lived ones and vain attempts to develop a pilgrimage site. By resorting as much as possible to the original documents we tried to show the modulations s of this devotion by analyzing the chronological movement of a hundred place of worship in contrast to the unhistorical approach developed in plethoric clerical literature of the nineteenth century.
El número de lugares de peregrinación conocidas entre el IV y el siglo XVIII en Borgoña central (entre Vézelay y Nevers) en una curva ascendente, pero no lineal. Esta forma de la piedad es un importante marcador de varios acontecimientos: la elección de intercesores, tipo de supervisión o medio tangible de la oración. La adaptación de la estructura y la posibilidad de renovar el aparato hagiográfico relativa a las cambiantes aspiraciones determina el éxito de una peregrinación que tiene que renovarse bajo amenaza de decadencia. El milagro es posible o percibida por su adaptación al contexto socioeconómico. Este estudio examinó los dos santuarios frecuentados en el largo plazo como lugares efímeros de peregrinación. De un cuerpo de un centenar de sitios, tratamos de mostrar las modulaciones de reintroducir fluctuaciones seculares como fixisme estos fenómenos y el carácter inmemorial de las peregrinaciones como la literatura clerical del siglo XIX han defendido.
Le nombre de lieux de pèlerinages connu entre le IVe et le XVIIIe siècle en Bourgogne centrale suit une courbe ascendante mais non linéaire. Cette forme de piété est un marqueur significatif de plusieurs évolutions : choix des intercesseurs, cadre d'accueil ou supports tangibles de la prière. L'adaptation du cadre et la capacité à renouveler l'appareil hagiographique par rapport à l'évolution des aspirations déterminent le succès d'un lieu de pèlerinage et chaque époque a vu son lot de sanctuaires devoir s'ajuster sous peine de décliner. Le caractère opiné du miracle résultant de mutations socio-religieuses, l'étude a porté tant sur les lieux de pèlerinages réputés et pérennes que sur les lieux éphémères. A partir d'un corpus d'une centaine de sites, nous avons tenté de montrer les modulations de ces phénomène en réintroduisant les fluctuations séculaires si lointaines du fixisme et du caractère immémorial des pèlerinages tels que la littérature cléricale du XIXe siècle les a défendus.
Fichier principal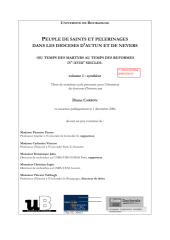 Carron2006Synthese.pdf (11.13 Mo)
Télécharger le fichier
Carron2006Corpus.pdf (2.73 Mo)
Télécharger le fichier