Les souks et l'organisation de l'espace régional dans le Souss (Maroc)
THE SUQ ORGANIZATION IS A VERY ANCIENT ONE IN THE SOUSS REGION. THE COLONIAL PERIOD HAS LITTLE INFLUENCED THE SOUSSI SUQS NETWORK, BUT IT HAS UNBALANCED ITS PATTERNS. MOROCCAN AUTHORITIES AFTER INDEPENDENCE FOLLOWED THE SAME DIRECTION. ON A GEOGRAPHICAL LEVEL, SOUSSI SUQS ARE UNEQUALLY DISTRIBUTED AND GENERALLY SMALL SIZED. THE FOOD BRANCH IS PREEMINENT AND THE PROVIDING FUNCTION REMAINS IMPORTANT. SUQS TRADE, FROM ONE HAND, AND RURAL FIXED AND PERMANENT TRADE AND SEDENTARY AND FIXED COMMERCIAL SETTLEMENTS, FROM THE OTHER HAND, ARE COMPLEMENTARY. THE STUDY EMPHASIZES TWO OPPOSED SPACES : THE DYNAMIC PLAINS AND THE MOUNTAINS LIVING IN A KIND OF LISTLESNESS. ON AN ORGANIZATIONAL LEVEL, THE SOUSS REGION BENEFITS FROM A QUITE COMPLETE SUQS FRAMEWORK, BUT WITH A BAD DISTRIBUTION. THE URBAN SOUSSI NETWORK IS WELL STRUCTURED ACCORDING TO A HIERARCHICAL SYSTEM, BUT EXTERNAL INFLUENCES ARE EVERYWHERE PRESENT. INFLUENCE AREAS FROM SUQS AND SOUSSI URBAN CENTERS ARE HOWEVER EVERYWHERE EXPANDING. COMMERCIAL NO MAN'S LANDS (MOUNTAINS AND DIR IN PARTICULAR) ARE MORE AND MORE OPEN. IN FACT, THE SOUSS REGION JUXTAPOSES SEVERAL COMPLEMENTARY AREAS WHICH ARE DEPENDENT FROM A COMMERCIAL POINT OF VIEW AND DIVERSELY STRUCTURED. SO, SOUSS IS STILL FAR FROM A COMMERCIAL HOMOGENEOUS REGION. THE MOST WE CAN SAY IS THAT IT IS A "TERRITORY" IN THE PROCESS OF FORMATION.
LE PHENOMENE SOUKIER EST FORT ANCIEN DANS LE SOUSS. LA PERIODE COLONIALE A TRES PEU AFFECTE LE RESEAU SOUKIER SOUSSI MAIS ELLE L'A MARQUE PAR LE DESEQUILIBRE QU'ELLE Y A INTRODUIT. LES AUTORITES DU MAROC INDEPENDANT ONT CONTINUE DANS LA MEME DIRECTION. SUR LE PLAN GEOGRAPHIQUE, LES SOUKS SOUSSIS SONT INEGALEMENT REPARTIS ET SONT GENERALEMENT DE PETITE TAILLE. LE SECTEUR DE L'ALIMENTATION PREDOMINE ET LA FONCTION D'APPROVISIONNEMENT DES SOUKS SOUSSIS DEMEURE IMPORTANTE. LE COMMERCE SOUKIER D'UNE PART ET LE COMMERCE RURAL FIXE PERMANENT ET LES CENTRES COMMERCIAUX FIXES ET ADMINISTRATIFS D'AUTRE PART SONT COMPLEMENTAIRES. CETTE ETUDE A FAIT RESSORTIR UNE OPPOSITION DE DEUX ESPACES : LES PLAINES DYNAMIQUES S'OPPOSENT AUX MONTAGNES VIVANT DANS UNE CERTAINE LANGUEUR. SUR LE PLAN ORGANISATIONNEL, LE SOUSS JOUIT D'UNE ARCHITECTURE ASSEZ COMPLETE DES SOUKS MAIS ELLE EST MAL REPARTIE. AUSSI LE RESEAU URBAIN SOUSSI EST BIEN HIERARCHISE, MAIS LES INFLUENCES URBAINES EXTERNES AU SOUSS SONT PARTOUT PRESENTES. LES AIRES D'INFLUENCE DES SOUKS ET DES CENTRES URBAINS SOUSSIS SONT CEPENDANT PARTOUT CONQUERANTES. LES HIATUS COMMERCIAUX (LES MONTAGNES ET LE DIR NOTAMMENT) SONT DE PLUS EN PLUS DESENCLAVES. DE FAIT, LE SOUSS EST UNE JUXTAPOSITION DE PLUSIEURS ZONES COMMERCIALEMENT DEPENDANTES ET DIFFEREMMENT STRUCTUREES. IL EST PAR CONSEQUENT ENCORE LOIN D'ETRE UNE REGION COMMERCIALE HOMOGENE. TOUT AU PLUS CONSTITUE T-IL UN "TERRITOIRE" EN VOIE DE FORMATION.
Fichier principal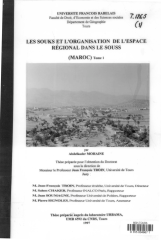 Les_souks_et_l_organisation_de_l_espace_rA_gional_dans_le_Souss.pdf (95.96 Mo)
Télécharger le fichier