Family dilemma about taking care of Alzheimer's disease : principles, relationships and emotions
Dilemmes familiaux de la prise en charge de la maladie d'Alzheimer : principes, relations et émotions
From an analytical model, combining the theoretical contributions of the sociology of family support and the sociology of emotions, we analyze the experience of family care of Alzheimer's disease through three dilemmas: the exercise of the patient's toilet, the use of reception and housing structures by families and intervention in the patient's private life. Theses dilemmas are understood through the prism of three registers of interpretation, action and justification: a register of principles, a relational register and an emotional register. Our analysis light up the plural singularity of experiences and implications of relatives of Alzheimer's patients.
A partir de un modelo analítico que combina las contribuciones teóricas de las sociologías del apoyo familiar y de las emociones, se analiza la experiencia de la atención familiar de la enfermedad de Alzheimer a través de tres dilemas: el ejercicio del baño del enfermo, el uso de centros de día y residencias, y la intervención en su vida privada. Estos dilemas se entienden bajo el prisma de tres registros de interpretación, acción y justificación: un registro de principios, un registro relacional y un registro emocional. Nuestros análisis aclaran la singularidad plural de las experiencias e implicaciones de los familiares de los enfermos.
À partir d'un modèle d'analyse alliant les apports théoriques des sociologies de l'aide familiale et des émotions, nous analysons l'expérience de la prise en charge familiale de la maladie d'Alzheimer à travers trois dilemmes : l'exercice de la toilette du malade, le recours aux structures d'accueil et d'hébergement et l'intervention dans sa vie privée. Ces dilemmes sont appréhendés au prisme de trois registres d'interprétation, d'action et de justification : un registre principiel, un registre relationnel et un registre émotionnel. Nos analyses éclairent ainsi la singularité plurielle des expériences et des implications des proches familiaux des malades.
Fichier principal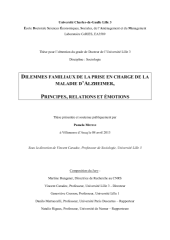 2013LIL30042.pdf (50.57 Mo)
Télécharger le fichier
Origin : Version validated by the jury (STAR)