The local management of the social issue : scale diversity, the circulation of ideas and expert contributions
La gestion localisée de la question sociale : diversité des échelles, circulation des idées, contributions expertes.
The management of the social issue in France resulted in the establishment of a « quasi- sector » which, when it came in full force in the mid-1970's, combined the following aspects: welfare, help for the needy & social actions. Later, in order to tackle the « new social problems », a rather general process of social territorialization came into being, grounded in four rather separate fields of action: restorative adjustment, integrative administration, modernizing management and bottom-Up development. State expertise is then enriched by a more generalistic sort of expertise, at the crossroads of the different scales of the various public policies. Since 2005, the newly structured repertoire, known as cohesive activation, has been combined with a more prescriptive expertise and appears as one of the tokens of the new socially active State regime. In that light, the Quebec experience enables one to both perceive the meaning and the modes of the re-Adjustments at work and to pinpoint some of the basics of our national impetus.
La gestion de la question sociale s'est traduite, en France, par la constitution d'un « quasi –secteur » qui, à son apogée au milieu des années 1970, articule protection sociale, aide sociale et action sociale. A la suite, et afin de faire face aux « nouveaux problèmes sociaux », se propage un processus assez généralisé de socio-Territorialisation empruntant à quatre répertoires d'action assez distincts : l'aménagement réparateur, l'administration intégrative, la gestion modernisatrice et le développement endogène. L'expertise d'Etat se double alors d'une expertise davantage généraliste, construite à l'articulation des différentes échelles d'action publique. Depuis 2005, le nouveau répertoire qui se structure, celui de l'activation cohésive, s'accompagne d'une expertise plus prescriptive et fonctionne comme un marqueur du nouveau régime d'Etat social actif. Le détour par le Québec permet alors d'entrevoir le sens et les modalités des réordonnancements en cours et, tout à la fois, de repérer certaines des composantes spécifiques de notre dynamique nationale.
Fichier principal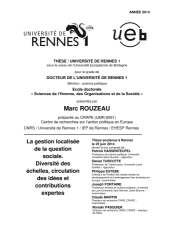 2014REN1G007.pdf (6.16 Mo)
Télécharger le fichier
Origin : Version validated by the jury (STAR)