The litigation in marine transport of cargo container.
Les contentieux en transport maritime de marchandises par conteneurs.
The container shipping has become universal because of its multimodal nature. The success of this mean of transport is also linked to the involvement of many professionals from both private and public sectors. However, the container shipping constitutes a field of litigation sometime ignored. The use of these boxes involves not only litigations of private nature but also of administrative nature. Although some international conventions regulate shipping in general, the unsuitability of some of these norms does not help the settlement of these litigations. And, as the customs administration is upstream and downstream involved in the execution of the contract of carriage, its involvement is a source of disputes whose settlement implies two different kinds of courts.
Le transport maritime par conteneurs est devenu universel compte tenu de son caractère multimodal. Le succès de ce mode de transport est aussi lié à l'implication de plusieurs professionnels tant du monde privé que du monde public. Cependant, le transport de conteneurs constitue un univers de contentieux parfois inconnus. L'usage de ces boîtes fait l'objet de contentieux de nature privé, mais également des contentieux de nature administrative. Bien que des Conventions internationales règlementent le transport maritime en général, l'inadaptation de certaines de ces normes ne facilite pas la résolution de ces contentieux. Et, comme l'administration des douanes est en amont et en aval dans l'exécution du contrat de transport, son intervention ne reste pas sans soulever des contentieux dont la résolution implique deux ordres de juridictions.
Fichier principal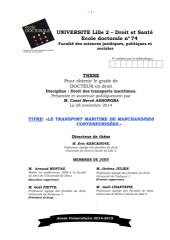 2014LIL20005.pdf (2.89 Mo)
Télécharger le fichier
Origin : Version validated by the jury (STAR)