The outsourcing of customs missions in Central African Republic (CAR) : an opportunity of improvment of public finance.
La privatisation des missions douanières en République Centrafricaine (RCA) : une opportunité d'amélioration des finances publiques ?
STATES collect revenue from taxes to provide necessary financial resources to the accomplishmentof their missions. Developing states have a common characteristic namely to collect revenue mainly onimported goods. Unfortunately customs administrations of these countries are generally inefficient due toa very high level of corruption of their personnel.Faced to this situation, internationals organisations advised to outsource some of the customs func-tions in order to improve the collection of revenue. Private companies developed new activities in thisarea and today most African countries have contracted out one or several of these companies usuallycalled preshipment inspection companies. After several years is it feasable to assess the efficiency of thatoutsourcing ? CAR is an excellent and pertinent study case to perform this assessment. On one hand,this country has outsourced all of the customs fonctions, which is a unique exemple in the world. Onthe other hand, there is a strong link between the existing situation of this country and the lack of anefficient customs administration.Can we blame these international organisations, which have assisted CAR since it's creation, for thecollapse of the administrative structures of this country ?
Pour assurer ses missions les États ont besoin de prélever l'impôt afin de s'assurer des ressources. Lacaractéristique des États en développement est, en matière de Finances Publiques, d'avoir des recettesbasées essentiellement sur les taxes prélevées en frontière sur les marchandises. Malheureusement dansces pays là, l'efficacité des Organisations Douanières est rarement au rendez-vous, notamment du faitd'une corruption très importante parmi les douaniers.Aussi les Organisations Internationales recommandent une privatisation partielle des missions afind'améliorer les recettes. Les sociétés privées se sont spécialisées dans cette forme de recouvrement etainsi la plupart des pays africains ont recours à l'une ou l'autre des sociétés dites de " pré-inspection ".Après des années de pratique peut-on évaluer l'efficience de cette privatisation ? L'exemple de la RCAest particulièrement pertinent pour étudier cela puisque d'une part ce pays a poussé la privatisation àl'ensemble des missions douanières, ce qui est unique au monde et d'autre part la situation actuelle de cepetit pays découle au moins en partie de l'absence d'une administration des douanes solide.Dans l'écroulement des structures administratives de ce pays, assisté depuis sa création par toutesles Organisations Internationales, ces dernières, sont-elles exemptes de reproches ?
Fichier principal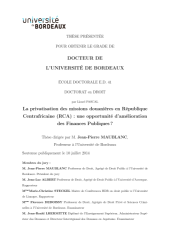 PASCAL_LIONEL_2014_CORR.pdf (7.47 Mo)
Télécharger le fichier
Origin : Version validated by the jury (STAR)