The rationalisation of the territorial organisation of the French Republic
La rationalisation de l'organisation territoriale de la République.
The abundance of proposals aiming to redraw the map of the local authorities reflects the remaining gap between their size and their role. Some authorities cannot effectively exercise their powers anymore. The first solution would be to redraw the boundaries of the local authorities; the second one would be to change the role of each level of local authorities. In both case, it is the territorial organisation of the Republic which should be reformed. It is then up to legal experts to determine whether the legislative power is allowed by the Constitution to carry out alone those reforms. If the Constitution does not always assert the jurisdiction of the State to reform the territorial organisation of the Republic, it does not forbid the State to engage alone such reforms. However, the attitude of the legislative power was to protect the interests of the existing local authorities by avoiding to remove units and by not setting a normative hierarchy between them. Consequently, the reforms carried out by the State have failed to resorb the gap between the size and the role of the local authorities. This failure does not give proof of constitutional constraints, contrary to what is argued in the political discourse. It reveals by contrast the weight of the political constraints which the legislative power has to face with, especially because of the combination of elective offices. The end of this French peculiarity will maybe confirm this assert.
L'abondance des propositions de redécoupage de la carte des collectivités territoriales témoigne du décalage persistant entre leur taille et leur rôle. Leur territoire ne permet plus à certaines collectivités d'exercer efficacement leurs compétences. La première solution consisterait à redécouper le territoire des collectivités territoriales ; la seconde consisterait à modifier le rôle de chaque niveau de collectivités territoriales. Dans les deux cas, c'est l'organisation territoriale de la République qu'il faudrait réformer. Il appartient alors au juriste de déterminer si le législateur est compétent, à droit constitutionnel constant, pour mener seul ces réformes. Le droit constitutionnel, s'il ne prévoit pas toujours la compétence de l'État pour réformer l'organisation territoriale de la République, ne s'oppose pas à ce que l'État engage seul de telles réformes. Pourtant le législateur s'est montré soucieux des intérêts des collectivités territoriales existantes en évitant d'en supprimer des unités et en ne mettant pas en place une hiérarchie normative entre elles. En conséquence, les réformes menées par l'État n'ont pas permis de résorber le décalage entre la taille des collectivités et leur rôle. Cet échec ne saurait témoigner de contraintes constitutionnelles contrairement à ce qui est parfois soutenu dans le discours politique. Il révèle en revanche le poids des contraintes politiques qui s'exercent sur le législateur, notamment par le biais du cumul des mandats. La fin de cette originalité française viendra peut-être confirmer cette affirmation.
Fichier principal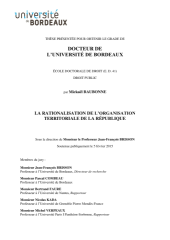 BAUBONNE_MICKAEL_2015.pdf (4.25 Mo)
Télécharger le fichier
Origin : Version validated by the jury (STAR)