Phenotypic variability of muscle development in cattle : Accurate analysis of GDF8 gene encoding for myostatin
Variabilité phénotypique du développement musculaire chez le bovin : analyse fine de la régulation du gène GDF8 codant la myostatine.
Myostatin, a member of the TGF- β (Transforming growth factor-beta) superfamily, functions as a negative regulator of skeletal muscle development and growth.Since its discovery in mice in 1997, the myostatin gene has been extensively investigated considering the potential benefits of enhancing muscle growth in clinical and agricultural settings. Loss-of-function mutations which impair myostatin function or those which knockdown myostatin gene expression, result in muscle hypertrophy often referred to as ''double-muscling'' whereas myostatin overexpression induces profound muscle loss. Here, we identified an unexpected mutation in the myostatin gene that is responsible for increasing muscle mass in Blonde d'Aquitaine cattle breed. In skeletal muscle, the mutant allele was highly expressed leading to an abnormal transcript with a premature termination codon and to residual levels of a correctly spliced transcript. This expression pattern, caused by a leaky intronic mutation with regard to spliceosome, could contribute to the moderate muscle hypertrophy in this cattle breed. This finding is of importance for genetic counseling for meat quantity and quality in livestock production and possibly to manipulate myostatin pre-mRNA in human muscle diseases.
La myostatine, un membre de la superfamille TGF-β (Transforming growth factor-beta) est un régulateur négatif de la croissance et du développement musculaire. Depuis sa découverte en 1997, le gène myostatine a été intensément étudié de par ses applications potentielles bénéfiques dans les domaines de l'élevage et médical. Les mutations pertes de fonctions qui affectent la fonction de la myostatine ou celles qui réduisent son expression conduisent à une hypertrophie musculaire, alors que celle qui engendre une surexpression de la myostatine engendre une réduction importante de la masse musculaire. Nous avons identifié un allèle inattendu du gène myostatine qui est responsable de l'augmentation de la masse musculaire chez la race bovine Bonde d'Aquitaine. Dans le muscle, cet allèle est fortement exprimé conduisant à la formation d'un transcrit myostatine aberrant avec un codon STOP prématuré de la traduction en plus d'une quantité résiduelle correctement épissé. Ce profil d'expression qui résulte d'une mutation intronique leaky par rapport à l'activité du splicéosome, contribue à l'établissement d'une hypertrophie modérée qui caractérise la race bovine Blonde d'Aquitaine. Cette découverte est importante dans le domaine de la génétique de l'élevage et potentiellement dans le domaine médical. Elle permet de concilier à la fois le bien être de l'animal et la production qualitative et quantitative de la viande. Par ailleurs, le mécanisme est susceptible d'être exploité pour une possible application pour soigner certaines maladies musculaires humaines via une manipulation appropriée des pré-ARNm du gène myostatine.
Fichier principal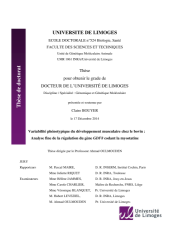 2014LIMO0054.pdf (13.55 Mo)
Télécharger le fichier
Origin : Version validated by the jury (STAR)