Creativity, career adaptability and lifelong career management skills
Créativité, adaptabilité et compétences à s'orienter tout au long de la vie.
Two major approaches have emerged in the discipline of career counseling to determine the key factors in career development: the relationship between creative potential and adaptability, and between creative potential and the individual characteristics of personality, motivation, and logical reasoning. This research attempts to integrate these two approaches by evaluating the impact of each of these factors on adaptability. 500 undergraduate volunteers filled out self-assessment questionnaires and performed timed graphic efficiency tests. The results were subjected to statistical analysis. The findings indicate that the individual characteristics of personality and motivation have higher correlation with adaptability than creativity and logical reasoning. Future research should involve different populations and employ non-graphic tests of creativity to confirm these results. If confirmed it would then be necessary to further explore the role of creativity in career development.
Partant du constat que les compétences créatives ont été peu étudiées dans le champ de l'orientation, alors même que les conduites d'orientation dans le contexte sociétal moderne font très largement appel aux compétences individuelles d'ouverture, de flexibilité, d'originalité, d'adaptation, voire même d'innovation, la thèse présentée examine la place et le rôle de la créativité comme composante des compétences à s'orienter.Après avoir exploré différentes associations possibles entre créativité et différentes compétences à s'orienter, nous nous focalisons d'une part sur les relations entre la créativité et l'adaptabilité de carrière telles que définies et opérationnalisées par Savickas (Savickas & Porfeli, 2012), et d'autre part entre la créativité et l'adaptabilité individuelle telle que définie et opérationnalisée par Ployart et Bliese (2006). Une étude portant sur un échantillon d'étudiants de premier cycle universitaire en France (n = 500) a été conduite et les résultats obtenus indiquent des corrélations significatives et positives entre le potentiel créatif et certaines des dimensions de l'adaptabilité individuelle et de carrière et invitent à accorder une place plus importante à la créativité dans les modèles d'orientation tout au long de la vie.
Fichier principal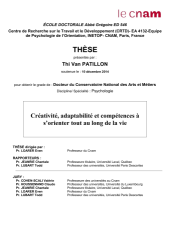 PATILLONThi-Van.pdf (9.77 Mo)
Télécharger le fichier
Origin : Version validated by the jury (STAR)