Gender and power relations in the judicial institution : Investigation into the institutional treatment of adolescent deviations by criminal and civil justice in contemporary France.
Genre et rapports de pouvoir dans l'institution judiciaire : Enquête sur le traitement institutionnel des déviances adolescentes par la justice pénale et civile dans la France contemporaine
Goal: The present work aims at analyzing the institutional treatment of adolescent deviances within the juvenile justice system, based on approaches of gender and other power relations. Our main objectives are to highlight the gender-related scripts and expectations that occur in the justice system and to describe the context in which they have been produced, reproduced and legitimated by youth control institutions. Beyond gender norms, this work deepens the understanding of how multiple social norms (related to class, race and age) impact both judicial processes and institutional careers of teenagers (boys and girls) going through the justice system. Method: A one-year ethnographic survey was conducted in a French juvenile court in Créteil, complemented with a 2-month survey in the juvenile court of Paris. Judicial records in criminal (n=133) as well as civil (n=95) proceedings were analyzed, public hearings were attended and finally both semi-directive and focus group interviews with juvenile justice agents were carried out. Findings: The study of judicial records shows the existence of a differential treatment between boys and girls. In criminal proceedings, the sentencing of girls relies notably more on care and infrapenal control than the sentencing of boys, whose vulnerabilities weigh not as much. In civil proceedings, some similar patterns were observed, although not as pronounced. The in-depth analysis of records shows the permeability of sentencing to social norms linked to social position, racial identity and age categories. Conclusion: This research documents the way the judicial institution organizes the trajectory of teenagers facing the justice system, and helps to understand the mechanisms of institutional production, reproduction and legitimation of gender norms. The norms passed on by the institutions were found to be linked to other power relations, which, in turn, influence judicial processes, such as class, race or age relationships. Therefore, it is necessary to implement an intersectional sociological approach of the State's actions and to criticize the legal universalism claimed by social control institutions.
Objectif : Cette recherche a pour objectif de documenter le traitement institutionnel des déviances adolescentes dans la justice des mineurs, au prisme du genre et des autres rapports de pouvoir. L'enquête vise en premier lieu à mettre au jour les scripts et attentes de genre véhiculés par les professionnel‑le‑s et à en décrire les conditions de production, reproduction et légitimation par les institutions de contrôle de la jeunesse. Au-delà des seules normes de genre, il s'agit de comprendre la manière dont différentes normes sociales liées notamment à la classe, à l'origine ethno-raciale ou à l'âge influent sur les procédures judiciaires et balisent les carrières institutionnelles des adolescent‑e‑s confronté‑e‑s à la justice.Méthode : Une enquête ethnographique d'une année a été menée au tribunal pour enfants de Créteil, et une enquête complémentaire a été réalisée durant deux mois au tribunal pour enfants de Paris. Ces investigations se sont principalement basées sur l'analyse qualitative et quantitative de dossiers judiciaires pénaux (n=133) et en assistance éducative (n=95), d'observations d'audiences, et d'entretiens (entretiens semi-directifs et focus groups) avec les acteur‑e‑s de la justice des mineurs. Résultats : L'étude des dossiers judiciaires indique l'existence d'un traitement différentiel des filles et des garçons. Cela se traduit notamment, au pénal, par un plus grand recours au soin et à des formes de contrôle para-pénales dans le cas des filles, et par une moindre prise en compte des vulnérabilités dans le cas des garçons. En assistance éducative, des schémas similaires sont à l'œuvre, mais de manière moins marquée. De plus, l'analyse approfondie des dossiers montre la perméabilité des actes de jugement à la position sociale (classe), à l'identité ethno-raciale et aux catégories d'âge. Conclusion : Cette thèse rend compte de la manière dont l'institution façonne les carrières des adolescent‑e‑s confronté‑e‑s à la justice, et aide ainsi à comprendre les mécanismes de production, reproduction ou légitimation institutionnelle des normes de genre. Il en ressort également que les normes véhiculées par l'institution renvoient à d'autres rapports de pouvoir en mesure d'influer sur les processus judiciaires, à l'instar des rapports de classe, race ou âge. Il est donc nécessaire de mettre en œuvre une approche sociologique intersectionnelle des actes d'État, et de procéder à un questionnement critique à l'égard de l'universalisme juridique tel que revendiqué par les institutions du contrôle social.
Fichier principal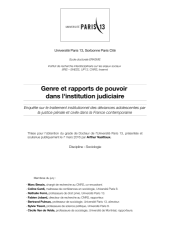 ederasme_th_2016_vuattoux.pdf (4.43 Mo)
Télécharger le fichier
Origin : Version validated by the jury (STAR)