The body and the tool : A neuropsychological study of apraxia and body schema in neurodegenerative diseases.
De l'outil et du corps : Etude neuropsychologique des troubles praxiques et du schéma corporel dans les pathologies neurodégénératives
Apraxia is a diagnostic criterion for neurodegenerativediseases and can reduce autonomy in these patients. Yet, the fewstudies that have been done in this domain rarely take into accountspecificities of dementia (e.g., evolution, diffuse lesions, differentphenotypes) and there is no theoretical consensus on apraxia. Tooluse disorders are mainly explained by the loss of stored knowledge(e.g., about tools or gestures) but recent models suggest to distinguishthe actual use of tools from common usage. Likewise, apraxiai sfrequently linked with the loss of body representations but a historicalperspective of the literature demonstrates that it is a relatively recentassumption. The present doctoral thesis submits an alternativeproposal by opposing body representation and more dynamic andneurological processes, that is, sensory integration. Thus, at thetheoretical level this work proposes a historical perspective and acritical review of existing literature, as well as an epistemologicalreflection that contrasts knowledge and reasoning, and that makes adistinction between specific gesture disorders and consequences ofother cognitive impairments on gesture production. At a clinical level,this neuropsychological research examines these different levels ofimpairments in patients through a differential approach. Results showthat the aforementioned theoretical considerations are clinicallyvalidated.
Les troubles praxiques font partie des critères d'inclusion decertaines pathologies neurodégénératives et sont de nature à réduirel'autonomie de ces patients. Pourtant, les rares travaux dans cedomaine prennent rarement en compte les spécificités liées auxpathologies dégénératives (e.g., évolution, lésions diffuses,phénotypes différents), sans compter qu'il n'existe pas de consensusthéorique sur l'apraxie. Les troubles d'utilisation des outils ontlongtemps été expliqués par la perte de représentations stockées (e.g.,connaissances sur les objets ou les gestes) mais des modèles récentssuggèrent de distinguer l'utilisation proprement dite de l'usagecommunément admis. De même, l'apraxie est fréquemment mise enrapport avec la perte d'une représentation du corps mais une mise enperspective historique de la littérature permet de constater qu'il s'agitd'un postulat tout à fait récent. La présente thèse émet une propositionalternative en opposant à la notion de représentation corporelle desprocessus plus dynamiques et neurologiquement ancrés tels quel'intégration sensorielle. Au plan théorique, la présente thèse proposeainsi une mise en perspective historique et une revue critique de lalittérature, ainsi qu'une réflexion épistémologique opposant savoir etraisonnement, permettant de distinguer des troubles spécifiques dugeste et des répercussions "dans le geste" d'autres niveaux deperturbations. Au plan clinique, ce travail de neuropsychologieclinique et expérimentale examine ces différents niveaux dans uneperspective différentielle et montre que les dissociations envisagéessont cliniquement opérantes.
Fichier principal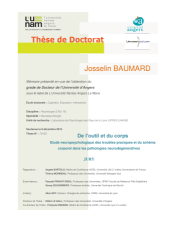 pdf2star-1487843985-thesebaumard.pdf (3.24 Mo)
Télécharger le fichier
Origin : Version validated by the jury (STAR)