A linguistic approach to identity-seeking in the contemporary Quebecois novel
Pour une approche linguistique des recherches identitaires dans le roman québécois contemporain.
This doctoral degree dissertation has been written for a joint PhD, established between the Université de Limoges and the Université de Montréal. We examine four contemporary Quebecois novels: Myriam Beaudoin's Hadassa, Éric Dupont's La Logeuse, Abla Farhoud's Le Fou d'Omar and Mauricio Segura's Côte-des-Nègres. The novels were published in Montreal between 1998 and 2006. The most important objective is the study of the link between the heterolingualism of the Quebecois novel during the years 1995-2010 and the linguistic practice of the protagonists. We place literary heroes at the heart of our research. We make an interpretation by induction, as we decrypt the worldview of this literary heroes from the linguistic practice. This will allow us to determine the factors that could motivate the change of register and variety of language in specific situations. We use literary, linguistic and sociolinguistic methods. The analysis of the diegesis is based on Gérard Genette's narratology theory. We use Philippe Hamon's five differentiation processes and Boris Tomashevsky's two individualization processes to establish the hierarchy of the literary characters. The results of the analysis of the diegesis are reproduced on a diagram. This type of diagram is our creation. Rainier Grutman define the heterolingualism like "the use of foreign languages or social, regional and historical varieties in literary texts" (translated by Nicole Nolette). We refer to the works of Rainier Grutman (1997) and Chantal Richard (2004) to analyse the form and function of hetorolingualism in our corpus. A sociolinguistic approach is based on Shana Poplack's works and her variationist model of code switching and of borrowing (1988).
Ce travail de doctorat a été rédigé dans le cadre d'une cotutelle internationale de thèse, établie entre l'Université de Limoges et l'Université de Montréal. Nous examinons quatre romans québécois contemporains : Hadassa de Myriam Beaudoin, La Logeuse d'Éric Dupont, Le Fou d'Omar d'Abla Farhoud et Côte-des-Nègres de Mauricio Segura. Les romans ont été publiés entre les années 1998 et 2006. Le plus important objectif est l'étude du lien entre l'hétérolinguisme du roman québécois des années 1995-2010 et la pratique langagière des protagonistes. Nous plaçons les héros littéraires au cœur de notre recherche. Nous procédons par induction, parce que nous décryptons la conception du monde des personnages principaux à partir de leur pratique langagière. Cela nous permet de déterminer les facteurs qui motiveraient le changement de registre et de variété de langue dans des situations spécifiques. Nous nous servons des théories littéraires, linguistiques et sociolinguistiques. L'analyse de la diégèse s'inspire de la théorie de Gérard Genette. Nous nous servons de cinq procédés de différenciation de Philippe Hamon et de deux procédés d'individualisation de Boris Tomachevski pour établir la hiérarchie des personnages. Les résultats de l'analyse diégétique sont reproduits sur le schéma graphique de l'énonciation, qui est notre création. Rainier Grutman décrit l'hétérolinguisme comme « la présence dans un texte d'idiomes étrangers, sous quelque forme que ce soit, aussi bien que de variétés (sociales, régionales ou chronologiques) de la langue principale ». Nous recourons aux travaux de Rainier Grutman (1997) et de Chantal Richard (2004) pour analyser les formes et fonctions de l'hétérolinguisme dans notre corpus. L'approche sociolinguistique s'inspire du modèle variationniste de l'alternance et de l'emprunt de Shana Poplack (1988).
Fichier principal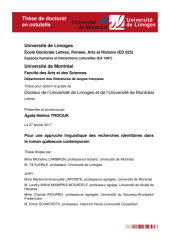 2017LIMO0024.pdf (6.07 Mo)
Télécharger le fichier
Origin : Version validated by the jury (STAR)