Simultaneous analysis of carboxymethyllysine, pentosidine and pyraline in dairy products by LC-MS/ESI (Q-TOF) after purification and solid phase concentration (SPE) by ion exchange
Analyse simultanée de carboxymethyllysine, pentosidine et pyrraline dans les produits laitiers par LC-MS/ESI (Q-TOF) après purification et concentration en phase solide (SPE) par échange d'ions
Análise simultanea de carboximetilisina, pentosidina e pirralina em derivados lácteos por LC-MS/ESI (Q-TOF) após purificação e concentração em fase sólida (SPE) por troca iônica
Maillard reaction products provide desirable organoleptic characteristics to foods (color, odor and taste), thus contributing to their acceptability by the consumer. However, several deleterious pathophysiological effects (aging, diabetes) have been attributed to advanced glycation products (AGEs). The aim of this work was to determine the simultaneous determination by LC-MS/ESI (Q-ToF) of carboxymethyllysine (CML), pentosidine (Pen) and pyrraline (Pyr) in milk samples heated or non-heated after purification and solid phase concentration (SPE) by ion exchange. Subsequent the milk samples were subjected to acid hydrolysis with 37% HCl, protein precipitation with a methanol / acetone mixture and enzymatic protein digestion for 30 hours at 37°C. Après l'étape d'extraction, les échantillons ont été concentrés/purifiés par SPE avec cartouches échangeuses d'ions puis analysés par LC-MS/ESI (Q-ToF). Ion exchange cartridges have resulted in excellent recovery of AGEs (89%, 95% and 117% for the CML, Pen and Pyr, respectively), much higher than those obtained with C18 cartridges. The concentration/purification by SPE is a step that deserves special attention for the determination and quantification of AGEs. Between the AGEs analyzed, only Pyr could be found in milk samples and the values were 0.021 ng/mg protein (skimmed milk) and 8.367 ng/mg (sterilized milk).
Les produits de réaction de Maillard apportent des caractéristiques organoleptiques souhaitables aux aliments (couleur, odeur et le goût), contribuant ainsi à leur acceptabilité par le consommateur. Toutefois, plusieurs effets délétères physiopathologiques (vieillissement, diabètes) ont été attribués aux produits de glycation avancés (AGE). Le but de ce travail a concerné la détermination simultanée par LC-MS/ESI (Q-ToF) des carboxyméthyllysine (CML), pentosidine (Pen) et pyrraline (Pyr) dans des échantillons de lait chauffés ou non, après purification et concentration en phase solide (SPE) par échange d'ions. Les échantillons de lait en suite ont été soumis à une hydrolyse acide avec HCl à 37%, une précipitation des protéines avec un mélange méthanol/acétone et une digestion enzymatique des protéines pendant 30 heures à 37°C. Après l'étape d'extraction, les échantillons ont été concentrés/purifiés par SPE avec cartouches échangeuses d'ions puis analysés par LC-MS/ESI (Q-ToF). Les cartouches d'échange d'ions ont permis d'obtenir une excellente récupération des AGEs (89%, 95% et 117% pour la CML, Pen et Pyr, respectivement), valeurs bien plus élevées que celles qui ont pu être obtenues avec des cartouches de type C18. La concentration/purification par SPE est une étape qui mérite une attention particulière pour la détermination et quantification des AGEs. Parmi les AGEs analysés, seule la Pyr a pu être retrouvée dans des échantillons de lait et celà à des valeurs comprises 0,021 ng/mg de protéines (lait écrémé) et 8,367 ng/mg (lait stérilisé).
Os produtos da reação de Maillard fornecem propriedades organolépticas desejáveis para alimentos (cor, cheiro e sabor), contribuindo assim para a sua aceitação pelos consumidores. No entanto, vários efeitos deletérios fisiopatológicos (envelhecimento, diabetes) são atribuídos aos produtos da glicação avançada (AGEs). O objetivo deste trabalho foi à determinação simultânea por LC-MS/ESI (Q-ToF) de carboximetillisine (CML), a pentosidina (PEN) e pirralina (Pyr) em amostras de leite aquecido ou não, após purificação e concentração fase sólida (SPE) por troca iônica. As amostras de leite foram subsequentemente submetidas a uma hidrólise ácida com HCl a 37%, a uma precipitação da proteína com uma mistura de metanol/acetona e uma digestão enzimática durante 30 horas a 37°C. Após a etapa de extração, as amostras foram concentradas/purificado por SPE, com cartuchos de troca iônica e analisadas por LC-MS/ESI (Q-ToF). Os cartuchos de troca iônica permitiram obter uma excelente recuperação dos AGEs (89%, 95% e 117% para CML, Pen e Pyr, respectivamente), sendo valores bem mais elevados do que os que podem ser obtidos com cartuchos de C18. A concentração/purificação por SPE é um etapa que merece uma atenção especial para a determinação e quantificação de AGEs. Entre os AGEs analisados, apenas Pyr foi encontrado nas amostras de leite, sendo observado valores para Pyr entre 0,021 ng/mg de proteína (leite desnatado) e 8367 ng/mg (leite esterilizado).
Fichier principal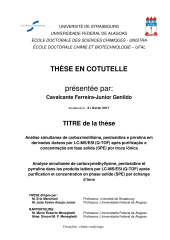 FERREIRA-JUNIOR_Genildo_2017_ED222.pdf (2.32 Mo)
Télécharger le fichier
Origin : Version validated by the jury (STAR)