The Euro-Mediterranean Partnership : Contribution to the Study of the European Union's Soft Power
Le partenariat Euromed : contribution à l'étude du soft-power de l'Union Européenne.
This thesis studies the rather complex contribution of the Euro-Mediterraneanpartnership to the EU's soft power. We have examined the link between the objectives,instruments, programs, agreements and effectiveness of the euro-Mediterraneanpartnership's action. It is not a matter of evaluating the partnership as such but rather itsuse by the European Union as a soft power instrument to establish liberal democracy inthe South Mediterranean countries. The four fundamental aspects of liberal democracywere therefore examined. In the economic field, there have been economicimprovements in the southern Mediterranean countries, mainly through theimplementation of economic and institutional reforms, but the free trade areaanticipated for 2010 was not established. The regional and international integration ofthese partner countries has made some progress that remains however modest. Thepromotion of good governance is central to the political objectives of the Partnership.Focusing mainly on institutional capacity building and the independence of the judicialsystem, Euromed efforts have brought about a global but insufficient improvement ingood governance in the southern Mediterranean countries. Actions in the framework ofthe Human Rights Partnership have focused on security issues, counter-terrorism andmigration control, while human rights issues and democratization were more or lessignored. Even civil action is not sufficiently strengthened.
Cette thèse étudie la contribution assez complexe du partenariat euro-méditerranéen au soft powerde l'UE. Nous avons procédé à l'examen de l'articulation entre les objectifs, les instruments, lesprogrammes, les accords et l'efficacité de l'action de l'Euromed. Il ne s'agit pas d'évaluer lepartenariat en tant que tel mais plutôt son utilisation par l'Union européenne comme instrument desoft power pour instaurer une démocratie libérale dans les pays sud-méditerranéens. Les quatreaspects fondamentaux de la démocratie libérale ont été donc examinés. Dans le domaineéconomique, il y eu des améliorations économiques dans les pays sud-méditerranéens del'Euromed, surtout par la mise en oeuvre de réformes économiques et institutionnelles, mais la zonede libre-échange prévue pour 2010 n'a pas été établie. L'intégration régionale et internationale, deces pays partenaires a connu des avancées qui demeurent encore modestes. La promotion de labonne gouvernance occupe une place centrale au sein des objectifs politiques du Partenariat.Ciblant principalement le renforcement des capacités des institutions et l'indépendance du systèmejudiciaire, les efforts menés dans le cadre de l'Euromed ont apporté une amélioration globale, maisinsuffisante, de la bonne gouvernance dans les pays sud-méditerranéens. Les actions menées dansle cadre du partenariat sur le terrain des droits de l'Homme ont mis surtout l'accent sur les questionsde sécurité, de la lutte antiterroriste et du contrôle des migrations, tandis que les questions relativesaux droits de l'Homme et à la démocratisation étaient plus ou moins passées sous silence. Mêmel'action civile est insuffisamment renforcée.
Fichier principal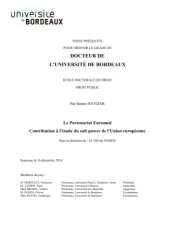 HAYDAR_SAMER_2017_CORR.pdf (3.2 Mo)
Télécharger le fichier
Origin : Version validated by the jury (STAR)