Problematization, investigations and learning in natural science : Didactic-pedagogical study of the conditions of possibility for problematizing empirical investigations, at elementary school, in two biological domains : plant nutrition and reproduction
Problématisation, investigations et apprentissages dans les sciences de la vie. : Etude didactico-pédagogique des conditions de possibilité pour des investigations empiriques problématisantes, dans deux domaines biologiques : nutrition et reproduction végétales.
For several years now, and with reference to the rationalist epistemology of Bachelard, Canguilhem and Popper, the relationship between problem, scientific knowledge and learning is the focus of extensive educational research. Language holds a first choice place at the heart of this interaction, which explains more particularly the importance given to scientific debate, and whose representation of the outcome, in terms of problematizing activity, is enabled by creating "spaces of constraints and needs", which build on the fundamental distinction of an empirical thesaurus and the thesaurus of the model [or the models], and also on the equally fundamental distinction of the apodictic and assertoric, that is what is the contingency and the necessary. Furthermore, though the scientific debate seems centered around the construction of the problem at stake, another question is raised, within the conceptual framework of problematization that we mobilize, the very function of empirical investigations, according to their own structure : are still involved in the construction of the problem at stake and, where appropriate, under what conditions ? Based on these recent findings, this research work aims at the conceptualization, the implementation and the analysis of two teaching-learning science sequence, in a class of year 9 and 10, so as to highlight some elements which may participate in the scientific case of problematization to be surveyed, more particularly in the articulation of the construction to solve the problem at stake.
Depuis quelques années déjà, et en référence aux épistémologies rationalistes de Bachelard, Canguilhem et Popper, les relations entre problèmes, savoirs et apprentissages scientifiques sont au centre de nombreuses recherches didactiques. Au cœur de cela les interactions langagières y tiennent une place de premier choix, ce qui explique notamment l'importance accordée au débat scientifique, et dont la représentation du produit, en termes d'activité problématisante, est rendue possible par la réalisation d'"espaces contraintes et nécessités", lesquels s'appuient sur la distinction centrale du registre empirique et du registre du modèle [ou des modèles], mais également sur la distinction tout aussi centrale de l'assertorique et de l'apodictique, c'est-à-dire de ce qui relève du contingent et du nécessaire. Reste cependant que, si le débat scientifique semble consacré à la construction du problème en jeu, se pose à présent la question, au sein du cadre conceptuel de la problématisation que nous mobilisons, de la fonction même des investigations empiriques, au regard de leur structure propre : participent-elles encore à la construction du problème en jeu et, le cas échéant, à quelles conditions ? De ces quelques constats, le présent travail de recherche vise donc à la conceptualisation, la mise en œuvre et l'analyse de deux dispositifs didactiques en sciences, et ce dans une classe du cycle de consolidation du premier degré, le tout afin de mettre en évidence les quelques éléments pouvant participer à l'activité de problématisation scientifique engagée, notamment dans l'articulation de la construction à la résolution du problème en jeu.
Fichier principal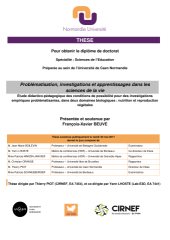 2017-BEUVE-FRANCOIS-XAVIER-VA.pdf (50.4 Mo)
Télécharger le fichier
Origin : Version validated by the jury (STAR)