The fate of the workers faced with the difficulties of the company under Ivorian law in the light of French law
Le sort des travailleurs face aux difficultés de l'entreprise en droit ivoirien à la lumière du droit français.
The difficulties that can be encountered by a company are multiform and varying degrees. When they have not reached the sufficient threshold to trigger a collective procedure, the entrepreneur often refrains from revealing the true situation of their company. The reluctance to formalize difficulties sometimes arises from socio-cultural contingencies, or from legal considerations. In most cases, the entrepreneur fears that the exercise of the prerogatives and responsibilities of which he is almost solely responsible will be undermined. The emergence of difficulties can trigger various management controls of the company, but also provoke a reaction of mistrust, or even the withdrawal of some financial partners and / or important collaborators. The hesitation to reveal the worrying situation of the company is also explained by the secrecy of business. In the absence of a genuine right to information for the benefit of workers, the entrepreneur may decide whether or not to give information. The interest of the company is often invoked to justify the silence, but also to channel the reaction of the workers. If he speaks, the entrepreneur will be able to choose the information and the channel by which he must reach the recipients.The procedure of warning in OHADA law to "awaken the careless leaders of the perilous state of the enterprise" deserves to be welcomed. The employer can respond to difficulties by avoiding job bonds, developing precarious jobs, outsourcing and using genuine or non-independent workers.The restructuring decision taken by the manager has negative consequences for the employees' situation. Section 11.8 of the Labor Code, which requires the maintenance of employment contracts in the event of a change in the employer's legal position, is intended to mitigate the consequences. It tries to preserve employment and to allow the continuation of the activity. Theoretically, this is an essential protection for employees, but in practice the "employment guarantee" is limited to the only period of change in the legal situation. The former employer and his successor are not totally deprived of their power to dismiss, but the transfer of activity can not as such constitute a legitimate reason for breach of contract. The lack of legal solidarity between successive employers makes it difficult to pay full wage claims.However, the workers are not totally abandoned in the face of the employer's decision to make redundancies for economic reasons; a special procedure must be observed. It is the ultimate hope of limiting job losses. Finally, the liquidation of the company is synonymous with the disappearance of jobs. On this occasion, priority is given to measures to save capital. The judge-commissioner who is responsible for deciding on the reduction or not of the staff decides almost always in the direction desired by the officer. However, during the formation of the composition, the workers can put forward arguments to improve the consistency of measures accompanying the abolition of jobs. The protection of workers' interests in the event of company difficulties is insufficient both from the procedural point of view and from the compensation for loss of employment. This often leads to the attraction of redundant employees the informal economy to ensure their survival and that of their families.
Les difficultés qui peuvent être rencontrées par une entreprise sont multiformes et de degrés variables. Lorsqu'elles n'ont pas atteint le seuil suffisant permettant de déclencher une procédure collective, le chef d'entreprise rechigne bien souvent à dévoiler la véritable situation de leur entreprise. Les réticences à l'officialisation des difficultés tiennent parfois à des contingences socioculturelles tandis ou à des considérations d'ordre juridique. Le chef d'entreprise craint, le plus souvent, qu'il soit porté atteinte à l'exercice des prérogatives et responsabilités dont il a pratiquement seul la charge. L'apparition des difficultés peut déclencher divers contrôles de gestion de l'entreprise, mais aussi provoquer une réaction de méfiance, voire le retrait de certains partenaires financiers et/ou des collaborateurs importants. Les hésitations à révéler la situation préoccupante de l'entreprise s'expliquent aussi par le secret des affaires. En l'absence d'un véritable droit à l'information au profit des travailleurs, le chef d'entreprise peut juger de l'opportunité de donner ou non des informations. L'intérêt de l'entreprise est souvent invoqué pour justifier le silence, mais aussi pour canaliser la réaction des travailleurs. S'il s'exprime, le chef d'entreprise va pouvoir choisir les informations ainsi que le canal par lequel elles doivent parvenir aux destinataires.La procédure d'alerte en droit OHADA destinée à « réveiller les dirigeants insouciants de l'état périlleux de l'entreprise » mérite d'être saluée. L'employeur peut répondre aux difficultés par l'évitement des liens d'emplois, le développement des emplois précaires, l'externalisation et le recours aux travailleurs réellement ou non indépendants.La décision de restructuration prise par le dirigeant a des conséquences négatives sur la situation des salariés. L'article 11.8 du Code du travail qui impose le maintien des contrats de travail en cas de modification dans la situation juridique de l'employeur vise à en atténuer les conséquences. Il tente de préserver l'emploi et de permettre la poursuite de l'activité. Théoriquement, il s'agit d'une protection essentielle des salariés, mais en pratique, la "garantie d'emploi" est limitée à la seule période du changement de la situation juridique. L'ancien employeur et son successeur ne sont pas totalement privés de leur pouvoir de licencier, mais le transfert d'activité ne peut constituer en tant que tel un motif légitime de rupture des contrats. L'absence de solidarité légale entre les employeurs successifs rend difficile le paiement intégral des créances salariales.Pour autant, les travailleurs ne sont pas totalement abandonnés face à la décision patronale de procéder à des licenciements pour motif économique ; une procédure particulière doit être observée. Elle constitue l'ultime espoir de limitation de suppression d'emplois. Enfin, la liquidation de l'entreprise est synonyme de disparition des emplois. À cette occasion, la priorité est accordée aux mesures visant à sauver le capital. Le juge-commissaire qui a la responsabilité de se prononcer sur la réduction ou non du personnel décide presque toujours dans le sens souhaité par le dirigeant. Toutefois, lors de la formation du concordat, les travailleurs peuvent faire valoir des arguments permettant d'améliorer la consistance des mesures d'accompagnement de la suppression des emplois. La protection des intérêts des travailleurs en cas de difficultés de l'entreprise est insuffisante tant du point de vue des procédures que de l'indemnisation de la perte de l'emploi, ceci a notamment pour conséquence bien souvent d'attraire les salariés licenciés vers l'économie informelle pour assurer leur survie et celle de leur famille.
Fichier principal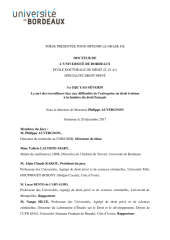 DJE_SEVERIN_2017.pdf (3.89 Mo)
Télécharger le fichier
Origin : Version validated by the jury (STAR)