Activated B cell Diffuse Large B cell lymphoma : role of NF-κB and c-Myc.
Les lymphomes B diffus à grandes cellules de type activé : rôle de NF-κB et c-Myc.
Not only Burkitt lymphoma (BL) with the translocation of MYC, but also diffuse large B-cell lymphoma (DLBCL) by other mechanisms (mutation, amplification, promoter dysregulation…) are associated with dysregulation of c-Myc, the master transcription factor for proliferation. DLBCL's are classified in two subgroups: "Germinal center B-cell" (GCB) without and "activated B-cell" (ABC) with constitutive NF-κB activation. This constitutive activation of NF-κB can be the result of genetic alterations (MYD88, A20, TRAF2, and TRAF5) or the activation of B-cell receptor or CD40. These features raise the question of the synergy of action between NF-κB and c-Myc in ABC-DLBCL. We analyzed the effect of a continuous activation of c-Myc in a context of over-activation of NF-κB by several inductors. Our results show that overexpression of c-Myc in the context of induction of NF-κB, i) by EBV latency III program, provides a selective advantage to those cells (gene expression in favor of a high metabolism, intense proliferation and protection against apoptosis), ii) by TLR9 (in vivo and in vitro model) increases the survival and proliferation of B lymphocytes of λc-Myc mice (increase of activated B cells, splenomegaly, increased B cells proliferation, modification of tumor microenvironment), and iii) by CD40, induces a very aggressive B lymphomagenesis in CD40/Myc double transgenic mice, the tumors have a phenotype close to ABC-DLBCL. These results suggest that c-Myc is an NF-κB co-transforming event in aggressive lymphomas with an activated phenotype by NF-κB, such as ABC-DLBCL.
A l'instar du lymphome de Burkitt (LB) avec la translocation de MYC, les lymphomes diffus à grandes cellules B (DLBCL) par d'autres mécanismes (mutation, amplification, dérégulation du promoteur) sont associés à une dérégulation de c-Myc, facteur de transcription maitre de la prolifération. Les DLBCL sont classés en deux sous-groupes: « centre germinatif » (GCB) et « cellule B activée » (ABC) avec activation constitutive de NF-κB. Cette activation constitutive de NF-κB peut être le résultat d'altérations génétiques (MYD88, A20, TRAF2 et TRAF5) ou de l'activation du BCR ou CD40. Ces caractéristiques soulèvent la question de la synergie d'action entre NF-κB et c-Myc dans les ABC-DLBCL. Nous avons analysé l'effet d'une activation continue de c-Myc dans un contexte de sur-activation de NF-κB par plusieurs inducteurs. Nos résultats montrent que la surexpression de c-Myc dans un contexte d'induction de NF-κB, i) par le programme EBV latence III, apporte un avantage sélectif à ces cellules (expression génique en faveur d'un métabolisme élevé, prolifération intense et protection contre apoptose), ii) par le TLR9 (modèle in vivo et in vitro), augmente la survie et la prolifération des lymphocytes B des souris λc-Myc (augmentation des cellules B activées, splénomégalie, augmentation de la prolifération des lymphocytes B, modification du microenvironnement tumoral), et iii) par CD40, induit une lymphomagenèse B très agressive dans les souris doubles transgéniques CD40/Myc, les tumeurs ont un phénotype proche des ABC-DLBCL. Ces résultats suggèrent que c-Myc est un événement co-transformant dans les lymphomes agressifs avec un phénotype activé par NF-κB, tel que les ABC-DLBCL.
Fichier principal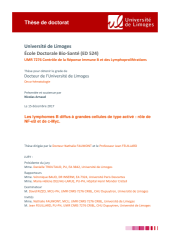 2017LIMO0105.pdf (14.78 Mo)
Télécharger le fichier
Origin : Version validated by the jury (STAR)