Study of neutron monopole drifts towards 78Ni by gamma spectroscopie with BEDO at ALTO and AGATA at GANIL
Etude des dérives monopolaires neutron au-delà du 78Ni par spectroscopie gamma avec BEDO à ALTO et AGATA au GANIL
Nuclear spherical shell structure evolves towards more and more exotic regions of the nuclear chart. Therefore, conventional magic numbers (2, 8, 20, 28, 50, 82, 126) can disappear while new ones appear. 
The evolution of gaps between single-particle states far from stability has essentially two origins : monopole drift and the collectivity enhancement. The monopole drifts are mostly coming from neutron-proton interaction (spin-isospin term of the nuclear interaction). In this thesis, we focused on the study of N=51 isotones and in particular 83Ge, the closest to 79Ni that can be studied nowadays by detailled γ-spectroscopy. For this purpose, two complementary experiments were performed. A first experiment, at GANIL with AGATA, VAMOS and the OUPS plunger device allowed us to measure lifetime of Yrast excited states in the 238U(9Be,f) reaction products. A second experiment for the study of β-delayed γ-spectroscopy of 83Ge was performed in order to populate non-Yrast states so that has an overview of the spectroscopy of 83Ge.The complementarity of these two experiments allowed highlighting for the first time an intruder state above the N=50 gap in 83Ge and thus, it adds information about the evolution of the νg9/2νd5/2 gap corresponding to the N=50 shell closure.A detailed analysis of both experiments is presented in this manuscript. In addition, a comparison to a semi-microscopic core-particle model is performed.
La structure nucléaire en couches sphériques évolue en allant vers des régions de plus en plus exotiques de la carte des noyaux. Par conséquent, les nombres magiques conventionnels (2, 8, 20, 28, 50, 82, 126) peuvent disparaître loin de la stabilité, tandis que de nouveaux apparaissent.L'évolution des gaps entre états de particule individuelle loin de la stabilité a essentiellement deux origines : les dérives monopolaires et l'augmentation de la collectivité. Les dérives monopolaires sont essentiellement dues à l'interaction proton-neutron (composante spin-isospin de l'interaction nucléaire). On se concentre dans cette thèse sur les isotopes impairs N=51 et en particulier sur 83Ge, le plus proche de 79Ni que l'on peut étudier actuellement par spectroscopie γ de précision. Pour cela, deux expériences complémentaires ont été réalisées. Une première expérience, au GANIL avec AGATA, VAMOS et le plunger OUPS a permis de mesurer les durées de vie des états excités Yrast des produits de la réaction 238U(9Be,f). Une seconde expérience pour l'étude par spectroscopie γ β-retardée de 83Ge afin de peupler les états non-Yrast a été réalisée afin d'avoir une vue d'ensemble de la spectroscopie de 83Ge.La complémentarité de ces deux expériences a permis de mettre en évidence un état intru pour la première fois au delà du gap N=50 dans 83Ge et ainsi avoir plus d'information sur l'évolution du gap νg9/2νd5/2 associé au nombre magique de spin-orbite N=50. Une analyse détaillée de ses deux expériences est présentée dans ce manuscript. De plus, une comparaison avec un modèle semi-microscopique coeur-particule est aussi réalisée.
Fichier principal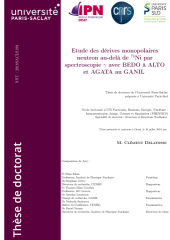 69821_DELAFOSSE_2018_archivage.pdf (11.99 Mo)
Télécharger le fichier
Origin : Version validated by the jury (STAR)