Zbu Rgyalrong, a Tibeto-Burman language of Southwestern China. A descriptive, typological and comparative study.
Le rgyalrong zbu, une langue tibéto-birmane de Chine du Sud-ouest. Une étude descriptive, typologique et comparative.
This thesis focuses on Zbu Rgyalrong, a Sino-Tibetan language of the Rgyalrongic branch, and consists of both a phonological and morphological description of the language and a reconstruction of the history of its verb inflection. This thesis aims at descriptive exhaustivity for its phonology and attempts to lay the foundation of a reference grammar, in order to characterize its inflectional morphology in the perspective of general linguistics. Based on the description of this highly endangered language, the thesis contains a diachronic discussion, which contributes to the project of reconstructing Proto-Rgyalrongic, a collective enterprise which has important implications for the reconstruction of Sino-Tibetan as a whole. Notably, a reconstruction is proposed of the time-aspect-modality (TAM) marking system of Proto-Upper-Rgyalrong, the most recent common ancestor of Japhug, Tshobdun and Zbu. This reconstruction provides new perspectives for distinguishing between inherited elements and secondary developments in each Rgyalronguic language, as well as within the kindred Qiangic languages. Also included in the diachronic part is a comparative treatment of some verbs in Zbu, examined with data from other Qiangic and Lolo-Burman languages, which can serve as a model for an etymological dictionary of Rgyalrongic verbs.
Cette thèse comporte deux volets complémentaires : d'une part, une description phonologique et morphologique du rgyalrong zbu, langue du groupe rgyalronguique du sino-tibétain ; d'autre part, une reconstruction de l'histoire de la flexion verbale de cette langue. Le volet descriptif vise à l'exhaustivité dans la description de la phonologie de cette langue, et pose les bases d'une grammaire de référence qui ambitionne notamment de situer sa morphologie flexionnelle dans une perspective de linguistique générale. Sur la base de cette description, élaborée au fil d'enquêtes de première main sur cette langue fortement en danger, un volet diachronique est proposé. Celui-ci contribue au projet général d'une reconstruction du groupe rgyalronguique, entreprise collective qui a des implications importantes pour la reconstruction du sino-tibétain dans son ensemble. Parmi les principaux résultats figurent une reconstruction du système de marquage de temps-aspect-modalité (TAM) de l'ancêtre commun le plus récent au japhug, au tshobdun et au zbu, désigné ici comme « proto-rgyalrong supérieur ». Cette reconstruction ouvre une perspective nouvelle pour bien distinguer entre éléments hérités et développements secondaires dans chacune des langues rgyalronguiques, ainsi qu'au sein du groupement supérieur (qianguique). Le volet diachronique comporte aussi un traitement comparatif de quelques verbes du zbu, à la lumière des données des langues qianguiques et lolo-birmanes, qui pourra servir de modèle pour un dictionnaire étymologique des verbes rgyalronguiques.
Fichier principal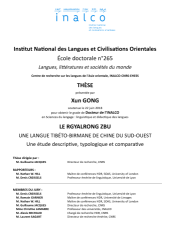 GONG_xun_va_vd.pdf (3.65 Mo)
Télécharger le fichier
Origin : Version validated by the jury (STAR)