The French conditional and its semantic equivalents in Serbian : a comparative study between the French conditional and the Serbian potential.
Le conditionnel dans la langue française et ses équivalents sémantiques dans la langue serbe : étude comparatvie entre le conditionnel français et le potentiel serbe
The objective of this work is to show the various usages of the French conditional and the Serbian potential connected with the meaning in language of each verbal form. This is a contrastive approach between Serbian and French. In the first part, we explore the notions and theories that underlie every research on verbal form in order to define the potential and the conditional and to point out the convergences and the divergences between these two forms. In the second part, we aim to identify and analyze modal and temporal usages of the potential and the conditional in the theoretical frameworks defining the meaning in language of these forms and to propose a new approach to the treatment of the forms in question. In the third and last part, we focus on determining and explaining the semantic equivalents of the conditional in Serbian and the potential in French in order to highlight the possible comprehension problems of these two forms and thus to participate in the development of Didactics of languages (French and Serbian).
L'objectif de cette thèse est de mettre en évidence le fonctionnement des différents emplois marqués par le potentiel et le conditionnel à partir d'une valeur en langue unique de chacune de ces formes verbales, dans une perspective contrastive entre le serbe et le français. La première partie interroge les notions et les théories qui sous-tendent toute recherche sur une forme verbale participant à la définition du potentiel et du conditionnel et pointant les convergences et les divergences entre ces deux formes verbales. Dans la deuxième partie, on se propose de déterminer et d'analyser les emplois modaux et temporels du potentiel et du conditionnel inscrits dans les cadres théoriques définissant la valeur unique de ces formes verbales et de proposer une nouvelle approche du traitement des formes en question. La troisième partie vise à saisir et à expliciter les équivalents sémantiques du conditionnel en serbe et du potentiel en français, dans le but de faire ressortir les difficultés possibles dans la compréhension de ces deux formes verbales et ainsi participer à l'avancement de la didactique franco-serbe.
Fichier principal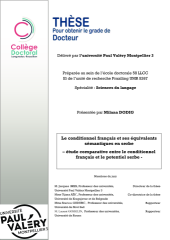 2018_DODIG_arch.pdf (3.62 Mo)
Télécharger le fichier
Origin : Version validated by the jury (STAR)