From the manufacture of futures to management situations : the contribution of futures studies to environmental strategies
Prospective et stratégies pour l'environnement : entre fabrique des futurs et situation de gestion, quelles prises pour l'action ?
Faced by challenges for the future such as that posed by the extent of ecological disruption (climate change, species extinction, pressure on water resource), the narratives regarding the future are ever multiplying, whether promising solutions via technology, models of a utopian society, or considering collapse as inevitable. Do said narratives play a part in the practical implementation of environmental management and are they supporting or restraining the action of those seeking to improve the state of ecosystems? This thesis addresses these issues by investigating the contribution of futures studies to the strategies of stakeholders acting for an effective management of environmental issues. Through eight case studies, the research work analyses how designers build futures studies so that they can provide opportunities for action to environmental actors (i.e. water agencies, protected areas managers, NGOs etc.). Futures studies influence the "manufacture of futures", that is, the competition between various future depictions of sociotechnical systems which results in imposing or excluding certain pathways of change. By making visible, in the manufacture of futures, narratives which lend credibility to transformations of socioecological systems in favour of ecological issues, futures studies may empower environmental actors. Futures studies designers connect the results of their interventions with processes in environmental management situations. These connections can provide, not without difficulty, opportunities to influence power relationships, the negotiation of environmental management actions, and the internal processes of organisations involved. This thesis offers an analytical framework to support the strategic thinking of futures studies designers in the design and implementation of their interventions. Furthermore, it opens up new avenues on the strategic issues of producing narratives to support the transitions of sociotechnical systems.
Face aux enjeux pour le futur posés par l'ampleur des dérèglements écologiques (changement climatique, extinction des espèces, pressions sur les ressources en eau…), les discours sur l'avenir se multiplient, qu'ils promettent une résolution des problèmes par la technologie, des modèles de société utopiques ou considèrent l'effondrement comme inéluctable. Ces discours sur l'avenir ont-ils une influence sur les situations concrètes de gestion de l'environnement ? Peuvent-ils soutenir ou contraindre l'action des acteurs cherchant à améliorer l'état des écosystèmes ? Cette thèse traite ces questions en s'intéressant aux démarches prospectives et à leur contribution à des stratégies d'acteurs défendant une prise en charge efficace des enjeux environnementaux. Grâce à huit études de cas, elle analyse comment des concepteurs d'interventions prospectives conçoivent ces démarches pour qu'elles fournissent des prises pour l'action d'acteurs d'environnement (agences de l'eau, gestionnaires d'espaces protégés, associations…). Les démarches prospectives influencent la « fabrique des futurs », c'est-à-dire la compétition entre différentes représentations de l'avenir des systèmes sociotechniques qui impose ou exclut certaines trajectoires de changement. Faire exister dans la fabrique des futurs des discours sur l'avenir crédibilisant une transformation de ces systèmes favorable aux enjeux écologiques fournit une ressource susceptible de renforcer le pouvoir d'acteurs d'environnement. Les concepteurs de prospectives travaillent à des reconnexions entre les discours sur l'avenir produits lors de leurs démarches et les processus de gestion de l'environnement. Ces reconnexions peuvent fournir, non sans difficultés, des prises sur les jeux d'acteurs, l'élaboration d'instruments de gestion de l'environnement et le fonctionnement des organisations impliquées. La thèse propose un cadre d'analyse pour accompagner la réflexion des concepteurs prospectifs dans la conception et la mise en œuvre de leurs démarches. Plus largement, elle ouvre des pistes de réflexion sur les enjeux stratégiques de la production de discours sur l'avenir pour participer aux transitions des systèmes sociotechniques.
Fichier principal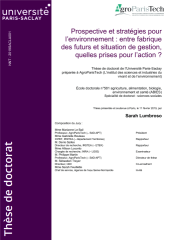 62092_LUMBROSO_2019_archivage.pdf (8.7 Mo)
Télécharger le fichier
Origin : Version validated by the jury (STAR)