Transformations and permanences of professionnal paths in France (1968-2018). A cohort and gendered approach to employment developments.
Métamorphoses et permanences des parcours professionnels en France (1968-2018). Pour une approche cohortale et sexuée des évolutions de l'emploi.
Are we actually facing a fundamental destabilization of employment in France since the end of the "Trente Glorieuses" ? The point of this thesis is to question the idea of a contemporary time which would be described as a "deep dislocation of the wage earners" (Castel, 2009), and which would result in a major transformation of the professional paths from a generation of workers to another.  The empirical foundations of the idea of social progress reversion, in terms of employment, are examined on the basis of three dimensions of the professional paths : employment, unemployment, job insecurity and qualification. Their evolutions are apprehended by a quantitative approach, combining both transverse, lengthwise, gender-related and cohort-related outlooks. The professional paths of three cohorts of workers (1945, 1960 and 1975) are compared one to each other on the basis of INSEE's Labour Force surveys (enquêtes Emploi) and on the Permanent Demographic Sample (Echantillon Démographique Permanent) datas. This thesis' general hypothesis challenges the idea of an opposition between the professional paths of, in one hand, generations of the"full-employment" whom had entered their jobs during the "trente glorieuses" and on the other hand the later generations, whose careers are said to be marked by a general deterioration of their working conditions. The first part of this thesis questions the relevancy of this opposition between "full-employment" and "under-employment" generations : by highlighting gender effects, it puts forward the fact that, despite the massification of unemployment, the model of wage society is reinforcing since the end of the "trente glorieuses", especially by expanding the employment norm to women's work. However, the feminization of contract-based employment is highly linked to the rise of a derogatory form of employment – part time jobs. The second part challenges the idea of a sudden blast and a globalization of job insecurity. It reveals, though derogatory forms of employment had expanded widely throughout years and cohorts, that it is more of a new way of entering the first company or the first job, than a long-term situation which could undermine the professional paths. The third part focuses on the workers' professional paths. It examines the idea according to which there have been a huge worsening of the conditions of career development throughout the cohorts of workers.
Assiste-t-on réellement à une déstabilisation fondamentale de la relation d'emploi en France depuis la fin des « trente glorieuses » ? L'objet de la thèse consiste à questionner l'idée selon laquelle la période contemporaine se caractérise par « un bouleversement en profondeur de la condition salariale » (Castel, 2009) qui se traduirait par une transformation majeure des trajectoires professionnelles entre des générations successives de travailleur•euse•s. Les bases empiriques de l'idée d'inversion du progrès social en matière d'emploi sont interrogées autour de trois dimensions des parcours professionnels : l'emploi et le non-emploi, l'instabilité professionnelle et la qualification. Leurs évolutions sont appréhendées par le biais d'une approche quantitative qui articule les perspectives transversale, longitudinale, cohortale et sexuée. Les parcours professionnels de trois cohortes de travailleur•euse•s (1945, 1960 et 1975) sont comparés à partir de données issues des enquêtes Emploi et de l'Echantillon Démographique Permanent. L'hypothèse générale de la thèse remet en question l'idée d'une opposition dans les trajectoires professionnelles entre les générations du « plein-emploi » insérées dans la vie active pendant la période des « trente glorieuses » et les générations suivantes, aux parcours marqués par une dégradation généralisée des conditions d'emploi.La première partie de la thèse interroge la pertinence de l'opposition entre les générations du « plein-emploi » et celles du « sous-emploi » : portant une attention accrue aux effets de sexe, elle met en avant le fait que, malgré la massification du chômage, le modèle de société salariale s'est affirmé depuis la fin des « trente glorieuses » par un développement de la norme d'emploi au sein du salariat féminin. La féminisation du salariat s'est toutefois largement appuyée sur l'essor d'une forme dérogatoire à la norme d'emploi typique, l'emploi à temps partiel. La seconde partie remet en question l'idée d'une explosion et d'une généralisation de l'instabilité de l'emploi. Elle montre que, bien que les emplois dérogatoires à la norme de l'emploi à durée indéterminée se soient considérablement développés au fil des cohortes, ils forment plus un nouveau mode d'entrée dans l'établissement employeur qu'une situation qui déstabilise à long terme les parcours professionnels. La troisième partie se concentre sur les trajectoires socioprofessionnelles des salarié•e•s. Y est questionnée l'idée selon laquelle les conditions de déroulement des parcours professionnels se seraient considérablement dégradées entre les cohortes successives de travailleur•euse•s.
Fichier principal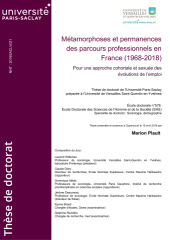 fix_bYbYPeN3.pdf (8.95 Mo)
Télécharger le fichier
Origin : Version validated by the jury (STAR)