The discourses' role into scientific knowledge's construction : semiotics mediations of the scientific information, the case of epilepsy.
Le rôle des discours dans la construction des savoirs scientifiques. : Médiations sémiotiques de l'information savante, le cas de l'épilepsie.
This PhD thesis is devoted to the study of discursivisation's role of and semiotics founding principles in the scientific knowledge, all along the information transmission process: from the scientific research sphere to the layperson sphere, passing through medical body. The aim is to analyze the way the expert information is passing from a body to an another by mediation or remediation of discourses. By taking neurosciences research about epilepsy as an access key, this work wants to analyze discourses produced all along the semiotics mediations path, from a field study in an INSERM laboratory and the drawing up of in situ corpus groups (scientific articles, medical letters, doctor/patient consultation transcriptions, numeric autopathography, etc.). This study, in the perspective of opening semiotics to other humanities, is spurred on the willpower to reach an operational theorization, both anthroposemiotics and semiopragmatics, to study scientific discourses and equivalents: to anthroposemiotics of communication.
Cette thèse se consacre à l'étude du rôle de la discursivisation et de ses fondements sémiotiques dans la construction des savoirs scientifiques le long du parcours de transmission de l'information : de la sphère de la recherche scientifique fondamentale jusqu'à la sphère profane dans laquelle s'inscrit le patient, en passant par l'instance médicale. L'objectif est d'analyser comment, de médiations en remédiations, le contenu informationnel savant transite d'une instance à l'autre, et ce, par le truchement des différents discours. En prenant pour clé d'entrée thématique les discours de la recherche en neurosciences sur l'épilepsie, le projet tient à analyser les différents discours produits le long de ce chemin de médiations sémiotiques, à partir d'une étude de terrain dans un laboratoire INSERM et l'élaboration de groupes de corpus situés (articles scientifiques, lettres de consultation, transcriptions de consultation médecin/patient, autopathographies numériques, etc.). Le présent travail, dans une perspective d'ouverture de la sémiotique aux autres sciences humaines et sociales, est porté par la volonté de parvenir à une théorisation opérationnelle, à la fois anthroposémiotique et sémio-pragmatique, pour l'étude des discours scientifiques et assimilés : vers une anthroposémiotique de la communication.
Fichier principal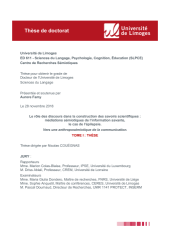 2018LIMO0046.pdf (12.45 Mo)
Télécharger le fichier
Origin : Version validated by the jury (STAR)