From recognition of knowledge to re-knowledge of experience. Contribution to the study of evaluation practices in a validation of experience. Six candidates testify to their graduation.
De la reconnaissance des savoirs à la re-connaissance de l'expérience. Contribution à l'étude des pratiques de l'évaluation dans une démarche de validation des acquis de l'expérience. Six candidat(e)s témoignent de leur parcours diplômant.
The Validation of the Experience Gained (V.E.G) is a device issued from the social modernization Law of 2002 and strengthened in 2017 under the Labour Act. Its origins being presuted, and in particular the dechine of a socio-economic context on the decline, we will define the rules of this process.This is the fourth way of graduation in France under special attention from the French Educational system. This is assimilated to an assessment, hence the question of whether the latter could actually be considered as an evaluation device. With regard to the determination of the components of Evaluation and the V.E.G, can we envisage that there is a possible parallel between assessment and knowledge and on the other hand experience and re-understanding.
La Validation des Acquis de l'Expérience (VAE) est un dispositif émanant de la loi de modernisation sociale de 2002 et renforcé en 2017 dans le cadre de la loi travail. Après en avoir présenté les origines, et notamment un contexte socio-économique sur le déclin, nous définirons les modalités de ce processus.C'est la quatrième voie de diplomation en France et elle fait l'objet d'une attention particulière de l'Etat. Cette VAE est assimilée à une évaluation, d'où l'interrogation quant au fait de savoir si l'on pouvait réellement considérer cette dernière comme un dispositif d'évaluation. Au regard de la détermination des composants de l'évaluation et de la VAE, pouvons-nous envisager qu'il y ait un parallèle possible entre d'une part l'évaluation et les savoirs et de l'autre l'expérience et la re-connaissance.
Fichier principal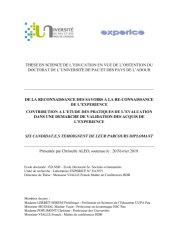 versiontransmisefac.pdf (5.61 Mo)
Télécharger le fichier
Origin : Version validated by the jury (STAR)