Study about interactions between Clouds and Vehicular Networks
This thesis deals with Cloud solutions which aim to enhance some aspects of the vehicular networks such as the latency and the use of the (bandwidth). The state of the art presents the main subjects that concern us, namely the vehicular Cloud Computing (VCC), the Information Centric Networking (ICN), the smart cities an at last, the ETSI (European Telecommunications Standards Institute) t standards for the ITS (Intelligent Transport System). The intelligent vehicles increase the scope of the road safety apps and the traffic optimisation. The communication channel G5 (Wifi 802.11p), used by the ITS currently deployed in Europe and in the USA, doesn't always enable to secure the non-stop connectedness of a vehicle to the network. Moreover, a limited bandwidth creates a growth of crashes. The consequence of these 2 phenomena is to extend the communication period from a ITS station to another. This thesis offers solutions which work thanks to the wide deployment of the cellular network. These solutions have been tested on the road, with the help of the Android app. Through this procedure, we can now demonstrate all the benefits offered by these solutions to improve connectedness as well as the time of the receipt of what can happen on the road. In addition, we support the problems of connectedness of the G5 using a simulator that we have designed; this device implements, in a very precise way, the ETSI stack of the ITS. Thus, we can now analyse the strengths and the weaknesses of the different approaches as well as those from the scientific publications. For instance, within the framework of a smart city that we have modelled into a context Cloud, composed of a server, many sensors and vehicles, we partly solved the problem of the bandwidth linked to the sending of the data collected by the sensors towards the vehicles. One of our contributions is an ICN architecture which uses the ETSI facilities among other things. It both enhances the quality of the service (which is providing the data to the largest number of vehicles) and the network overhead applied on the G5 channel, compared with the existing approaches. We have created an analytic model for each of these ones, taking into account the mobility of the vehicles into a city and the random positions of the UBR. In order to verify and approve the results, we have developed the simulator to take into account each aspects of the model and the communication of the different approaches.
Cette thèse fait un état des lieux des solutions Cloud qui visent à améliorer certains aspects des réseaux véhiculaires comme la latence et l'utilisation de la bande passante. L'état de l'art présente les principaux sujets qui nous concernent, à savoir, le Vehicular Cloud Computing (VCC), l'Information Centric Networking (ICN), les villes intelligentes ainsi que les standards ETSI (European Telecommunications Standards Institute) pour les ITS (Intelligent Transport System). Les véhicules intelligents ouvrent de nouveaux horizons pour les applications de sécurité routière ou l'optimisation de trafic. Le canal de communication G5 (Wifi 802.11p), utilisé par les ITS qui sont actuellement déployées en Europe et aux États-Unis notamment, ne permet pas toujours d'assurer la connectivité continue d'un véhicule au réseau. A ceci s'ajoute une bande passante limitée. Ces deux phénomènes ont pour conséquence d'allonger les délais de communication d'une station ITS à une autre. A travers cette thèse, nous apportons des solutions qui bénéficient du large déploiement du réseau cellulaire. Ces solutions, de type SaaS ou NaaS, collectent tout ou une partie des messages générés par les véhicules, pour les redistribuer, ou en déduire des événements routiers. Elles ont été expérimentées sur route à l'aide d'applications embarquées. Ceci a permis de mesurer les délais moyens de communication sur le réseau cellulaire, et le temps nécessaire à la distribution d'un événement. Afin de comparer ces résultats avec les VANET, nous présentons un simulateur qui reproduit le comportement des véhicules sur route et les communications G5 en implémentant la pile ETSI des ITS. Nous avons abordé la ville intelligente que nous modélisons sous la forme d'un Cloud de contexte, composé d'un serveur, de multiples capteurs et des véhicules. Et nous présentons notre architecture ICN qui consiste, entre autres, à intégrer les échanges dans la couche « facilities » de l'ETSI après avoir condensé un ensemble de données en une seule au niveau d'un serveur central, et a pour but de limiter l'impact des échanges, des données de capteurs, sur la bande passante du G5. De plus grâce aux échanges de véhicule à véhicule, nous cherchons à étendre la zone du réseau dans laquelle l'information est distribuée. La présentation de notre approche passe par une modélisation analytique prenant en compte la mobilité et le placement aléatoire des UBR dans une ville de type Manhattan. Cette modélisation permet de mesurer la charge réseau engendrée par les échanges et du pourcentage de véhicules qui reçoit l'information. Nous comparons notre approche avec deux autres : Named Data Network (NDN) et Rendez-Vous Netwkork (RENE), après avoir donné les modèles analytiques de celles-ci. Pour valider ces modèles, nous présentons un simulateur qui reproduit la ville, la mobilité des véhicules et les communications liées à chaque approche. Enfin, nous comparons les performances de ces approches dans la recherche du plus court chemin dans une ville intelligente.
Fichier principal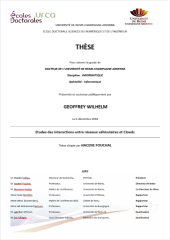 83509_WILHELM_2018_archivage.pdf (3.57 Mo)
Télécharger le fichier
Origin : Files produced by the author(s)